Last week, I attended a workshop production of a musical called Allegiance, which tells the tale of the unconstitutional imprisonment of 120,000 West Coast residents of Japanese descent during World War II. The show is being developed by the Old Globe in San Diego, with music and lyrics by composer/producer Jay Kuo and book by Kuo and Lorenzo Thione.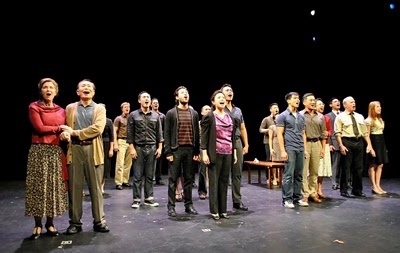 Having looked at popular depictions of this sad chapter of American history in the decades since World War II, I was interested to see how the musical, directed by Stafford Arima, would tell this story through the medium of musical theater.
The play follows the Omura family as they are abruptly uprooted from their lives as shopkeepers and students in Salinas, Ca. and sent to Heart Mountain, Wyo. Father Tatsuo (Paul Nakauchi) is a defiant Issei (like all Japanese immigrants at the time, barred from becoming a U.S. citizen) who refuses to sign the infamous "loyalty oath" swearing allegiance to and willingness to fight for the U.S. and forswearing allegiance to the Emperor and Japan. As American-born citizens, his sons James (Jose Llana) and Sam (Telly Leung) express the sentiments of the majority of Nisei at the time—the wish to prove their loyalty to America at any cost. James volunteers to fight in the all-Nisei 442nd Regimental Combat team, and Sam throws himself into the camp newspaper, The Heart Mountain Sentinel to write pro-America articles.
The production stars George Takei as old Sam (the story is structured as one long flashback, with a young and an old Sam). Lea Salonga is young Sam's Japanese teacher and the fiancée of James. In Heart Mountain, father and sons are on opposite sides of the tense political divide that separated loyalist Nisei, led by the accommodationist Japanese American Citizen's League, and the vocal and defiant "No-No Boys," who refused to sign the loyalty oath and protested their unjust imprisonment.
Opinion about this play will likely be divided among the Japanese American community that watches it, too. First, there is the squeamish uncertainty: is this going to be a Springtime for Hitler-like attempt at concentration camp musical theater? Turning deeply resonant Issei sayings (shikata-ga-nai/"it can't be helped," gaman/"persevere, do your best") into the lyrics for a Broadway-style song-and-dance musical at first struck me as bizarre, and slightly cringe inducing. The songs, though, turned out to be moving tributes to the stoicism and unquenchable spirit of the prisoners.
Then there is the matter of historical accuracy. One friend, well-versed in Heart Mountain history, objected to the way the "No-No Boys" are treated as a mere plot device to gin up some drama, and their views not fully explained and honored. On the opposite end of the spectrum, viewers at earlier workshops apparently complained that toadying JACL head Mike Masaoka, as played by Paolo Montalban, was too much of a buffoon.
Yet there is a long history of musicals using the raw material of history as fodder for popular entertainment; think Evita, Porgy and Bess (which started as an opera), Les Miserables, and 1776, for example. The first two, especially, were criticized for factual inaccuracies, yet their mass appeal brought small pieces of history—however fudged, cheesed up, glamorized and overwrought the final product—to a mass viewership that most documentary filmmakers and historians can only dream of.
The musical's outlook on the legality and morality of the mass roundup is in line with today's views of the evacuation and concentration camps as a gross breach of civil rights and a stain on America's reputation: JACL leader Mike Masaoka is portrayed as a spineless puppet, the "lapdog of the WRA" (War Relocation Authority, the government body created to oversee the mass incarceration), who suggests that suicide squads of Japanese American soldiers be sent into battle to prove how loyal the Japanese are to America. The camp director installs young Sam as a government mouthpiece at the Sentinel, using him as "bait" to get to the dissident inmates. (In fact, as my friend points out, there was no hiding of the No-No boys; they expressed their views and suffered the consequences of being sent to the even harsher Tule Lake concentration camp.)
This approach is a far cry from Ansel Adams's 1943 collection of writings and photographs of Manzanar, Born Free and Equal. In it, Adams took pains to both praise the industry and neatness of the prisoners but called the concentration camps "only a rocky wartime detour on the road of American citizenship…a symbol of the whole pattern of relocation—a vast expression of a government working to find suitable haven for its war-dislocated minorities."
I overheard two people sitting behind me talking about the evacuation and incarceration as a "sad chapter" in American history and "one we don't hear about." I hope that Allegiance will get more people talking about it, and send them to the history books to find out the full story of what happened.
* * *
The indy film Littlerock, directed by CalArts graduate Mike Ott, has been pulling in favorable reviews on the festival circuit. I went to see a local screening because it stars two young Japanese actors, Atsuko Okatsuka and Rintaro Sawamoto as a brother and sister (also named Atsuko and Rintaro in the film) stranded in a dusty dead-end California town. Even more interesting to me, it features a trip to Manzanar.
Ott slaps two very Japanese characters down in the middle of Littlerock, a podunk Antelope Valley town where the young people pass the time drinking, partying, fantasizing about getting out, and trying to scrape by. They are befriended by a hapless dreamer, Cory, who pulls them into his circle. While Rintaro soon tires of the scene, Atsuko, getting in touch with her inner slacker and relishing the sheer otherness of this aimless existence, opts to stay behind and explore a budding romance.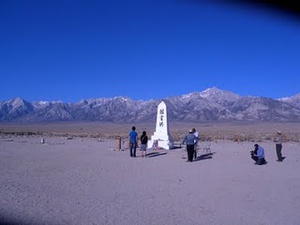 Manzanar as their destination, along with San Francisco, is alluded to, but we don't really know why these otherwise typical Japanese siblings want to visit the site of the former World War II Japanese concentration camp. Although Rintaro's Japanese is serviceable, Atsuko, from the beginning to the end of the film, doesn't utter a word of English. Her face is a blank slate; one of the few clues to her inner life comes from her voiced-over letters to her father. We learn that he and her brother are estranged, and that she lies to her father and tells him she is in San Francisco when she's actually learning to make burritos at Cory's father's Mexicatessen.

Themes of racism, cultural difference and language barriers gain new resonance and the tone of the film abruptly shifts when Rintaro and Atsuko arrive at Manzanar, now a National Parks Service site, and tour the interpretive center. There are clips of FDR's speech after Pearl Harbor, images of racist signs, and the "soul-consoling tower" ireito, or obelisk that marks the prison camp cemetery. It's an abrupt and jarring shift to documentary mode, and we at last find out that there is a personal connection between the siblings and the camp. Atsuko muses to her father in a letter what her life might have been like had the war and the concentration camps not happened, and had she been born in America. But the final scene, a frustrating farewell phone call between Atsuko and Corey, who still can't understand a word each other says, hints that the racial and communication divides that caused such trauma continue today.
*This article was originally published on Nancy Matsumoto's blog, Walking and Talking, on August 9, 2011.