Read Part 1 >>

Higa is not the earliest pioneer of Uchinanchu journalism in America.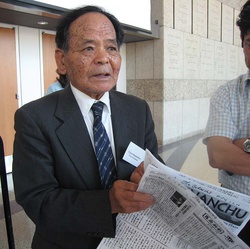 That would probably be Takeo Kaneshiro, a journalist based in Los Angeles, who has no computer and does not know how to type. "What is the Internet?" inquired the 88-year-old Kaneshiro when asked to create an online version of the newspaper he publishes.
His meticulous handwriting is legible enough for people who subscribe to Godaishu, Kaneshiro's handwritten newspaper that he has been publishing for 46 years. Godaishu reports on the activities of Uchinanchu all around the world and helps connect them.
Kaneshiro named his publication Godaishu, or "five continents," honoring Toyama Kyuzo, the father of Okinawan emigration, who helped the first 27 Okinawans move to Hawaii in 1900. Back then, Okinawa, which had been annexed by Japan, was suffering under the marginalizing and discriminatory policies of the Japanese government. Toyama, who was a schoolteacher in Okinawa, had been treated as a third-class citizen by teachers and headmasters from mainland Japan. So he went to Tokyo and joined the civil rights movement for Okinawans. He encouraged Uchinanchu to explore the world and make triumphant journeys back to Okinawa to show the rest of Japan that they were not third-class citizens.
Toyama visited Hawaii in 1903. Upon leaving Okinawa, Toyama composed a poem containing the line, "Off we go! The world's Five Great Continents are our abode." This poem became a cultural touchstone for Okinawan emigration and has encouraged many Uchinanchu to go abroad to free themselves from Japanese discrimination.
Today, approximately 300,000 Uchinanchu are scattered around the world in countries including Peru, Brazil, Mexico, Canada, and the United States. Some, however, still face discrimination in the Japanese immigrant communities where they live. Like Toyama, Kaneshiro remembers that he was looked down upon by fellow Japanese in both Hawaii and Los Angeles.
Kaneshiro says he uses Godaishu as a tool to fight against discrimination by telling the world that Uchinanchu are a proud and a successful people. "Uchinanchu immigrants were also despised—as though we had deserted our home country—by Japanese people in Japan. But I wanted to let people know that Uchinanchu immigrants around the world are very successful," said the diminutive Kaneshiro in a strong and determined tone.
Kaneshiro was born in Hawaii in 1922 as a son of Uchinanchu immigrant parents who worked as farmers. He is what is called Kibei, an immigrant's child who goes back to Japan for education and then returns to America. After finishing elementary school in Kin Village, Okinawa, he returned to Hawaii at age 14.
In 1938, he moved to Los Angeles and attended high school in Westlake. During World War II, when many Japanese Americans were interned, he spent the next couple of years in a relocation camp in Rohwer, Arkansas, where he graduated high school, before moving to the internment camps at Tule Lake, California and Crystal City, Texas.
He began writing at the camp in 1943. "I didn't have anything to do. I don't have hobbies. Unlike some people, I don't smoke, gamble, fish, or play golf or baseball. I killed time by writing about how I spent my days in the camp," said Kaneshiro, who said he has been writing ever since.
Kaneshiro was sent to Tule Lake, an internment camp that accommodated people from other camps who refused to take a vow of undivided loyalty to the United States. As a result, it had the highest level of security of any of the camps. His diary describes how every morning, people made a deep and respectful bow to the east, the direction symbolically representing Japan. Kaneshiro wrote that they also bowed on the traditional ascension day of Japan's first emperor, who in legend is reputed to have assumed the throne on February 11, 660 B.C. At the camp "There were skirmishes all the time," wrote Kaneshiro, who said he never joined brawls.
Kaneshiro, a U.S. citizen, still considers himself more Uchinanchu than American. He remembers the day at the camp when the military came to recruit Japanese Americans for the 442nd regimental unit. It was a unit mostly consisting of Japanese Americans drafted in the camp, and the most highly decorated regiment in the history of the United States Armed Forces. It included 21 Medal of Honor recipients. Kaneshiro wrote on that day: "The government confined us in the camp when they didn't want us. But now they come to us because they need more soldiers. What is this all about?"
Kaneshiro returned to Los Angeles in 1949 and farmed strawberries in Azusa and West Covina. He eventually settled in West Los Angeles and started the gardening business that he still owns and operates. He had been thinking about publishing a newspaper, but first, he had to stabilize his life by starting his business to support his family.
Finally, in 1964, he started Godaishu. "Those of us who live far apart from one another do not know of the activities and events taking place among Okinawan immigrants and their sons and daughters living in different and distant communities," Kaneshiro wrote in the paper's first edition, published on February 12, 1964.
Kaneshiro, whose hair is still full and black, wakes up at 6:30 a.m. on weekdays, does some exercise in his backyard, reads more than 10 newspapers and newsletters and clips the articles that he thinks he is going to use for his newspaper. He often attends big meetings and ceremonies, such the 100th anniversary of the Okinawan Association of America, and writes about it in his newspaper.
Everything is done with his hands, which are tanned and wrinkled from gardening. He meticulously crops the newspaper articles he has cut out, clips and glues them to a sheet of paper. When he does not have the original copy of an article, he transcribes the articles by hand. He does not have anyone to help him publish the four-page newspaper, but, he says, "I can finish publishing the paper in half a day," if he has all the materials.
At its peak, the paper had more than 1,000 subscribers, but today the number stands at 180. But Kaneshiro is not bothered by the decrease. He considers publishing the newspaper to be more of a service to empower Okinawans around the globe than a mechanism to make money. He only accepts money for stamps, and sends out the newspaper to his subscribers, who are mostly in Los Angeles, for free.
His subscribers appreciate Kaneshiro's work, which is filled with information about the whereabouts of Okinawans and cultural activities around the world. "I am so glad that you publish this newspaper, because it is really hard to get information about Uchinanchu and Okinawa here. We get to know what Uchinanchu all around the world are doing thanks to you," one subscriber from Ohio wrote to Kaneshiro.
Others like his handwriting. "Sometimes it is hard to read your handwriting, but your handwriting touches my heart. You are a true cultural ambassador of Okinawa," commented a subscriber from Chicago.
Last spring, Kaneshiro had surgery. He had planned to stop the paper altogether, and he had reimbursed all the money he had received for stamps. However, he continued to receive donations. "I wasn't going to continue. But I felt I was being rude to my subscribers when they were still supporting me," said Kaneshiro. He decided to continue running his newspaper.
* This article was originally published on Okinawa: Past, Present and Future.