Bingata Textiles: Preserving a Royal Tradition in Okinawa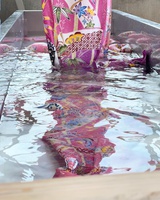 The bingata method of textile dyeing is a vibrant artistic tradition with a long history on Japan's subtropical Okinawan islands. Originally reserved for the sumptuous garb of the royalty and ruling class of the Ryukyu Kingdom, these traditional hand-dyeing techniques are still being carried on by craftspeople in Okinawa today. In commemoration of the 50th anniversary of Okinawa's reversion to Japan, this program explores the fascinating history, unique methods and current state of bingata with textile specialist Ginny Soenksen, and bingata craftsman Toma Chinen. The first event in our multi-part Living Traditions webinar series this season.
https://www.japansociety.org/events/bingata-textiles/

japansociety . Last modified Oct 14, 2022 12:16 p.m.
---