Resistance at Tule Lake Film Screening with Director Konrad Aderer
The City College of New York Shepard Hall
259 Convent Avenue
Room 290
New York, New York, 10031
United States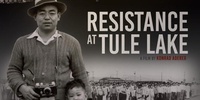 During World War II, over 110,000 Japanese Americans were forced to leave their homes, taking only what they could carry. They were imprisoned in "internment" camps, with no charges against them, and no idea how long it would last. The dominant narrative of this incarceration of Japanese Americans has been that they behaved as a "model minority," cooperating without protest and proving their patriotism by enlisting in the Army. *Resistance at Tule Lake*, a new feature-length documentary directed by Japanese American filmmaker Konrad Aderer, overturns that myth by telling the long-suppressed story of Tule Lake Segregation Center. Aderer will be present for discussion after the screening.
This event is sponsored by Third World Newsreel and the Documentary Forum at CCNY and cosponsored by the CCNY MFA Film Alliance.
Refreshments served.
Directions:
#1 to 137th Street
ABCD to 145th Street
Street parking available after 6 PM.
For more information or updates on this event, visit:
https://www.eventbrite.com/e/resistance-at-tule-lake-film-screening-with-director-konrad-aderer-tickets-49718102182?aff=ebdssbdestsearch

APA_Institute . Last modified Oct 17, 2018 1:37 p.m.
---