"Farewell to Manzanar" author Jeanne Wakatsuki Houston
Menlo Park City Council Chambers
701 Laurel Street
Menlo Park, California, 94025
United States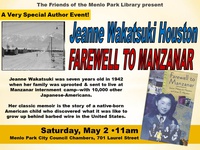 "Farewell to Manzanar" author Jeanne Wakatsuki will appear to discuss her memoir of her time living as a child behind the barbed war of an internment camp, in an event hosted by the Menlo Park Library.
The event is free & open to the public, and refreshments will be provided, courtesy of the Friends of the Menlo Park Library.

menloparklibrary . Last modified Mar 05 2015 5:40 p.m.
---