Kuniyoshi's Comic Prints: Exploring the Roots of Manga in Edo-Period Ukiyoe
Nikkei National Museum
6688 Southoaks Crescent
Burnaby, British Columbia, V5E 4M7
Canada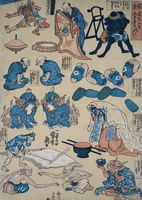 Sunday, March 2, 2014, 2pm
Nikkei National Museum
Admission: $3 Nikkei National Museum & Cultural Centre members, seniors, students | $5 regular
Highlighting images from the exhibition UKIYOE SPECTACULAR this talk will explore definitions of the comic genre, tracing the term "manga" and characteristic features of its style and subject matter into the past.
In this context, closer examination of the humorous, bizarre, and often cryptic imagery of 19th-century woodblock print artist Utagawa Kuniyoshi and his circle will illuminate intriguing connections to the world of manga comics, which enjoy such widespread popularity today.

NNMCC . Last modified Dec 29, 2013 9:47 p.m.
---