All Things Japanese Sale
Japanese Cultural & Community Center of Washington
1414 S. Weller St.
Seattle, Washington, 98144
United States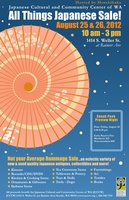 More than your average rummage sale! The JCCCW's Hosekibako Japanese Antique and Resale Shop is hosting the 2nd Annual All Things Japanese Sale! We will be selling items from kitchenware and stationary to antique collectables and kimono!
If you want to get a head start, you can come to our preview night! Details are here:
http://www.facebook.com/events/402375706464692/
All Things Japanese Sale will be August 25-26 from 10AM-3PM
Admission is Free!
All proceeds from the sale go toward the JCCCW and its programs, promoting Japanese and Japanese American heritage and culture throughout the community. For more information about the sale, how to donate, or be part of the JCCCW please email us at admin@jcccw.org or give us a call at 206-568-7114.

jcccwa . Last modified Jul 18, 2012 3:15 p.m.
---