BOOKS & CONVERSATIONS: "Bridge of Scarlet Leaves" by Kristina McMorris
Japanese American National Museum
100 N Central Ave
Los Angeles, California, 90012
United States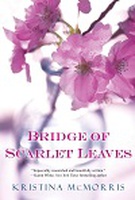 FREE!
This critically acclaimed World War II novel tells the story of Maddie Kern, an aspiring violinist who secretly elopes with her Japanese American boyfriend—the night before Pearl Harbor is bombed. When her beloved Lane is interned at a relocation camp, Maddie dares to remain at his side. Behind barbed wire, tension simmers and the line between patriot and traitor blurs. As Maddie strives for the hard-won acceptance of her new family, Lane enlists in the Military Intelligence Service to prove his allegiance to America, no matter the cost.
Free with Museum admission. Reservations recommended to rsvp@janm.org or 213.625.0414 at least 48 hours prior.
www.janm.org

Read an interview with author Kristina McMorris on Discover Nikkei >>

JANM . Last modified May 31, 2012 10:08 a.m.
---