6th International Japanese Gardens Symposium
2215 Pan American Road.
San Diego, California, CA 92101
United States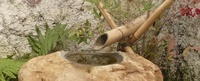 The Japanese Friendshp Garden Society of San Diego announces the 6th International Japanese Gardens Symposium which is to be held in October 2nd to 6th of 2010. The symposium theme is "The Spirit of Japanese Gardens and Japanese Culture."


Among the exhibitors will have the prestigious Chilean landscape, Mr. Bernardo Riquelme O. , who will talk about the movement of Japanese gardens in Chile and the Southern Cone.
Mr. Bernardo Riquelme O. it is currently associate director of "Estudio de Arquitectura & Paisajismo Asiático," a group of professionals dedicated to the development of asian architecture and landscaping projects, based in Santiago de Chile.
They have participated in building projects and individuals linked to cultural and holistic, developing projects for training centers, yoga centers, mental health centers, offices and restaurants that have need of a design or oriental atmosphere.
To learn more about the event, visit the following link and check the "Symposium".
To know about "Estudio de Arquitrectura & Paisajismo Asiatico", please press here .



Teien . Last modified Oct 11 2011 1:24 p.m.
---