Musashi Mix Inq. Art Exhibit: Tanimura
Flat Iron Arts Building (main Venue)
1579 North Milwaukee Avenue
Chicago, Illinois
United States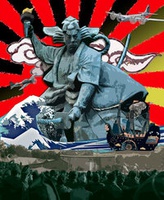 Beyond the Coyote / WPB Traditional Fall Art Festival
Musashi Mix Inq @ Beyond the Coyote!!!
Come on out to Beyond the Coyote to see some of my new pieces in the "Occupied" series!
Follow link below for more info on the event.
Hope to see you there!
Beyond the Coyote
September 10 - September 12 (Fri-Sun), 2010
Flat Iron Arts Building
1579 North Milwaukee Avenue, Chicago, IL

intrepidmouse . Last modified Aug 30 2010 12:12 a.m.
---