Chasing a Dream: Kanrin Maru (work-in-progress)
Mary Sano Studio of Duncan Dancing
245 Fifth St., Studio 314, (between Howard & Folsom)
San Francisco, California, 94103
United States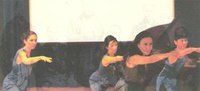 "Chasing a Dream: Kanrin Maru" is an original dance/theater piece that is being produced by Mary Sano in collaboration with writers, actors, dancers and musicians, and is a preview of our theater performance to be held this fall. This project is a part of the Kanrin Maru 150th Anniversary Celebration and supported in part by the San Francisco Arts Commission, the Consulate General of Japan, Piazza Trading & Co., Ltd., and other generous individuals.
Location: Mary Sano Studio of Duncan Dancing
245 Fifth St., Studio 314, San Francisco (between Howard & Folsom)
Tickets: Suggested donations $10-$25
Reservations 415-357-1817 or info@duncandance.org
To get a flyer, click here .

njahsdev . Last modified Aug 19, 2010 12:19 p.m.
---