Annual Day of Remembrance at the Smithsonian, 2010
National Museum of American History
Carmichael Auditorium
14th Street & Constitution Avenue, NW
Washington, District of Columbia
United States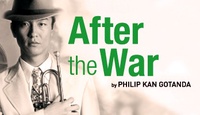 After the War: Japanese American and African American Community Relationships in post-WWII California with playwright Philip Kan Gotanda and Professor Scott Kurashige
To mark the 68th anniversary of the signing of Executive Order 9066 by President Franklin D. Roosevelt which led to the imprisonment of 120,000 Americans of Japanese ancestry during World War II, the Smithsonian Asian Pacific American Program welcomes award-winning playwright Philip Kan Gotanda and historian Dr. Scott Kurashige to the American History Museum stage.
Revered as the chronicler of Japanese America on the American stage, Philip Kan Gotanda will talk about one of his latest plays, After the War, which captures postwar life for 11 Americans of diverse backgrounds brought together by a shared address in San Francisco's Japantown. As Japanese Americans return to their Japantown homes following their release from U.S. prison camps during WWII, they face the new neighbors who have moved in during their absence… an unemployed African American man and his young daughter, who is being cared for by the sister of her runaway mother; the taxi-hall dancer from Oklahoma with her mentally challenged younger; a young Russian-Jewish immigrant by way of Yokohama—all living together in the boardinghouse run by an ex-jazzman and his would-be sister-in-law. Through deft characterizations, Gotanda explores the delicate balance amidst diverse communities in post-War San Francisco.
Professor Scott Kurashige, an associate professor of Asian/Pacific Islander American Studies, American Culture, and History at the University of Michigan, will discuss his debut title, The Shifting Grounds of Race: Black and Japanese Americans in the Making of Multiethnic Los Angeles. Kurashige examines both the conflicts and combined activism of the Japanese American and African American communities within a predominantly white but quickly changing Los Angeles during the last century. Published in late 2007 by Princeton University Press, Shifting Grounds received the 2008 Beveridge Prize from the American Historical Association for a distinguished book on the history of the United States, Latin America, or Canada since 1492.
Sponsored by National Japanese American Memorial Foundation, the National Museum of African American History and Culture, the Japanese American Veterans Association, and the Japanese American Citizens League.

vkm . Last modified Jul 09 2010 12:14 p.m.
---