Talking Im/migration Dialogue
Church of Christ Presbyterian
5846 N. Spaulding St.
Chicago, Illinois, 60659
United States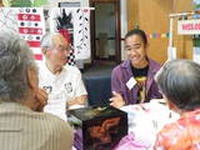 Please join us for an informal dialogue on immigration and migration and how it has shaped Chicago's Japanese & Japanese American community.
Please bring an object that reflects your ethnic or cultural identity, yourself and your thoughts.
Light refreshments will be served.

intrepidmouse . Last modified Jul 09, 2010 12:12 p.m.
---