Midwest Buddhist Temple Ginza Holiday
Midwest Buddhist Temple
435 W Menomonee
Chicago, Illinois
United States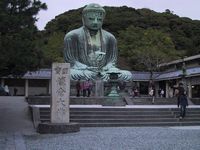 Ginza Holiday
Midwest Buddhist Temple's annual celebration
of Japanese crafts and culture, the Ginza
Holiday is an annual three-day event held the
second weekend of August. The Ginza
Holiday showcases the cultural heritage of those
who founded the temple and allows members to
share this with the public through demonstra-
tions of traditional Japanese art forms, crafts,
cuisine and performances. One highlight of this
festival is The Waza, a group of "living treasure"
craftsmen who visit from Japan in order to
demonstrate their skills and share their
creations.
Dharma talks are presented regularly during
Ginza by a resident minister, and tours of the
temple are held.
There is a nominal admission fee. A raffle,
which benefits temple programs and operation,
is held each year; tickets are available from
MBT members, at the temple office, or at the
event.
Midwest Buddhist Temple held its first Ginza
Holiday in 1956 at its former site several blocks
east of the current temple. The festival took its
name from The Ginza, a busy and colorful
shopping center and the most famous district in
Tokyo.
But 300 years ago, the area was famous for
duck hunting, as it was originally a vast
swampland. Tokugawa Ieyasu ordered the
reclamation of the area in 1603 and gave the
work to several feudal lords, thus the lots were
named for them - such as Owari-cho,
Yamashiro-cho, Kaga-cho and other streets.
The name Ginza dates to 1612 when Ginza, or
the official silver mint, was opened there. Later,
in 1873, the construction of two-story brick
houses and brick sidewalks gave birth to The
Ginza we know in Tokyo today.
For more information about Midwest Buddhist
Temple's annual Ginza Holiday, call the temple,
312-943-7801.
http://www.ginzachicago.com/
http://www.midwestbuddhisttemple.org/temple-special-events.htm

intrepidmouse . 更新日 7月 09 2010 12:14 p.m.
---