Film Screening & Panel Discussion: "Calling Tokyo: Japanese American Radio Broadcasters of World War II"
Japanese American National Museum
100 N Central Ave
Los Angeles, California, 90012
United States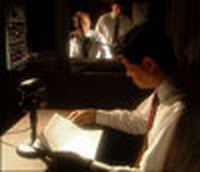 Calling Tokyo tells the story of Japanese Americans who participated in the United States and Britain's World War II broadcast campaign to influence the hearts and minds of people in Japan. Some of the radio broadcasters will share their experiences after the screening.
This is a story of discovery by a son, (Gary Ono) who learned about what his father did during the war, shortly after the signing of the 1988 Civil Rights Act. Upon finding out, he set out to tell this unhearalded story about his father (Sam Masami Ono) and a group of Japanese Americans who as U.S. civilians served America during World War II even as their family and friends were imprisoned in concentration camps.
While the unequaled battle records of Japanese American soldiers are now legendary, little is known about the vital role played by these US citizens who did language translation work and short wave radio broadcasting to Japan assisting in the joint wartime propaganda efforts of Britain and the USA. Through actual recordings and first person interviews with the participants of those broadcasts, "Calling Tokyo" is a fascinating story about a unique effort to support and help hasten the end of the war.
Produced by Janice D. Tanaka and Gary T. Ono, Written by Sreescanda and Gary Ono, Edited by Sreescanda. 47:30
Reservations recommended to rsvp@janm.org or 213.625.0414 at least 48 hours prior.
www.janm.org

Made possible by a grant awarded by the California Civil Liberties Public Education Program and with personal redress- reparation funds.
Gary T. Ono, is a Sansei transplant from San Francisco, California who now resides in the Little Tokyo area of Los Angeles. He is a volunteer photographer for the Japanese American National Museum. In 2001, he was awarded a California Civil Liberties Public Education Program grant to produce a video documentary, "Calling Tokyo: Japanese American Radio Broadcasters of World War II." He moderated two education programs at the National Museum: "The Other Side of Tokyo Rose" and a screening of "Calling Tokyo."
*Picture by Tokyo Broadcasting System – re-creation of radio broadcasting

JANM . 更新日 7月 09 2010 12:14 p.m.
---