White On Rice and Music with Goh Nakamura
Gene Siskel Film Center
164 N State St
Chicago, Illinois
United States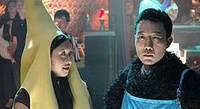 "White on Rice" Screening in Chicago!
"White on Rice," an indie comedy by director Dave Boyle, will be showing at the Gene Siskel Film Center this Sunday, December 6 at 5 PM. The screening will feature a set by San Francisco based musician Goh Nakamura at 4:30 PM. A special Q&A session with the director will follow the screening.
Sunday, December 6 - 5 PM
Gene Siskel Film Center
164 N. State Street
Tickets are $10.
More about "White on Rice":
Jimmy (Hiroshi Watanabe, LETTERS FROM IWO JIMA) loves dinosaurs and sleeps on the top bunk. Unfortunately, Jimmy is 40 and shares that bunk with Bob (Justin Kwong), his 10-year-old nephew. Freshly divorced, Jimmy lives with his sister Aiko (Japanese Academy Award winner Nae) and her family while boldly searching for a new wife. His brother in-law, Tak (Mio Takada, "Late Night with Conan O'Brien") thinks he's a disaster. And although Jimmy may lack social grace, he is convinced the best years of his life are just beginning. His plan seems like it's all falling into place when Tak's beautiful niece Ramona (Lynn Chen, SAVING FACE) moves in. But once Jimmy sets his sights on stealing her from his best friend Tim (James Kyson Lee, "Heroes"), he sees his intentions go hilariously awry.

Hilarious and heartwarming, White on Rice "Hits every comedic beat with surgical precision." (AsianWeek)
Website: http://whiteonricethemovie.com/main.html
Trailer: http://www.youtube.com/watch?v=P2f9vj60lfI

intrepidmouse . 更新日 2010年7月9日
---