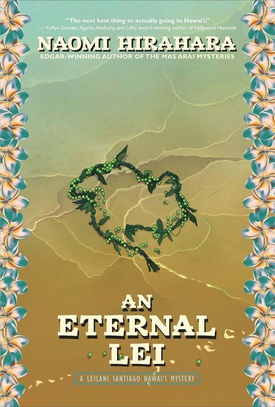 Naomi Hirahara's new mystery novel, An Eternal Lei introduces us to Leilani Santiago, a spirited, insatiably curious young woman who lives in a multigenerational, multiethnic household on the island of Kauai. Leilani saves the life of a woman found floating face down in Waimea Bay and finds herself driven to discover the victim's identity and connections to the island. Readers will be able to easily identify with Leilani as she forges a life of independence while remaining tightly connected to her family, presided over by her outspoken Baachan. Hirahara has created a convincing cast of characters and placed them in a completely authentic setting. From the dialog to the attitudes of the locals, An Eternal Lei is a trip to Hawaii minus the long flight and jet lag.
Hirahara's award winning novels, including the beloved series of Mas Arai mysteries, in addition to biographies and reference books reflect her background in journalism and her training in creative writing. Interviewed via e-mail, Hirahara maintained that she never had to choose journalism over fiction. The former Rafu Shimpo reporter and editor wrote:
"I followed those two paths concurrently—I would usually work on my novel early in the morning, go to work at the newspaper and then attend writing workshops on one week night and maybe the weekends. Journalism made a huge impact on my fiction writing. It opened up the larger world to me in a deep way. If I didn't work as a journalist, I think my stories would be more insular."
Hirahara enjoyed reading classic mysteries by the British novelist Dorothy B. Sayers, among others, but chose a change of scene for An Eternal Lei. "The impetus of setting a mystery in Hawaii was my response to whodunits that were set in small picturesque coastal towns with lighthouses and Hallmark-type environments. I desired to escape to such a place although, being Japanese American, I don't think I'd necessarily be welcomed. Hawaii is a place where my husband, who is of Okinawan heritage, and I can enter and residents would accept and even view us as one of them. I wanted to set a mystery in a place where Asian Americans and Pacific Islanders would be comfortable in their own skin."
Every page of An Eternal Lei contains telling details that will ring true and authentic to Hawaiians. From Leilani's code switching between standard English and pidgin to the complicated attitude towards tourists during the pandemic, the multi ethnic families and the food, it's all absolutely genuine. Yet Hirahara, a California native, admits to only two visits to Kauai. However, it's her favorite island.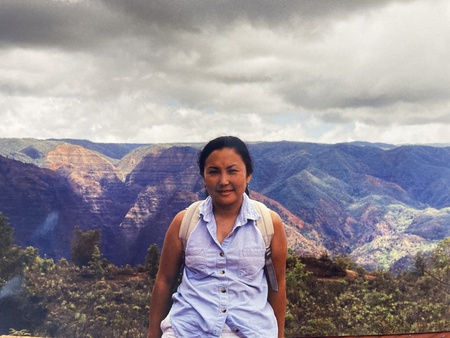 Her insights into Hawaiian culture began in childhood. For example, "in terms of code switching, since I'm the daughter of a Japanese shin Issei, I've grown up in a bilingual environment. I'm used to hearing Japanese and English mixed together with sometimes Spanish-language and Black dialect thrown in. It's part of urban Southern California life. When I attended Stanford, I was introduced to a wide swath of different Americans, including students from Hawaii who graduated from Punahou, Iolani, and Kamehameha. I would watch my Asian Americans classmates easily code switch from pidgin to standard English, depending who they were talking to."
Hirahara continued, "… when I started working at the newspaper I got to know more about Hawaii food, music and culture as I covered Hawaiian clubs and communities in Southern California. My former pastor had grown up in Oahu and served a congregation in Kauai before moving to the Los Angeles area. So all of these experiences served to inform the way that I deal with pidgin and dialect. And I would be remiss if I didn't mention a reader, Cynthia Hughes, who has checked over and corrected my pidgin. I am indebted to her contribution."
Leiilani's Baachan plays a prominent part in the story, much like the outsized influence of Japanese culture in today's Hawaii. Hirahara's Baachan character shares some qualities of her husband's Okinawan grandmother. "Since I am Japanese American," writes Hirahara, "I purposely made the family be more influenced by Baachan more than the Filipino elders. Also, many Japanese American kinship networks are more maternal than paternal. So I decided that the Santiago family would be structured that way."
Still, Baachan and the rest of the characters in An Eternal Lei are not stereotypes. Hirahara's involvement in Japanese American organizations has been, as she describes it, pivotal to creating compelling characters. "Pivotal in that I've gotten to know so many different pockets — in no way are we monolithic. But also I've been able to observe the delicate threads that connect us together. It's helped me to understand myself as well."
Naomi Hirahara is such a prolific author that it's only natural to wonder about her future plans for Leilani Santiago, whose Baachan is the estranged sister of Hirahara's Los Angeles based Ellie Rush series. "I've learned that sometimes I need to loosen my grip on certain characters and series and be open to surprises. The publisher of the first Ellie Rush mystery, Murder on Bamboo Lane, will be repackaging the cover due to the success of my historic mystery, Clark and Division. So anything is possible."
In the meantime, Hirahara has a suggestion for mystery fans who can't get enough of Hawaii.
After sending an advance copy of An Eternal Lei to Honolulu-based mystery author and federal law enforcement officer, Scott Kikkawa, she discovered that he had played a role in the real-life based crime on which the novel is based. "I would recommend that Discover Nikkei readers pick up Scott's series based on a post-World War II Nisei homicide detective in Honolulu. It's a wonderful journey to Hawaii before statehood. Start with the first, Kona Winds." An Eternal Lei comes out in March 2022.


Find more information about Naomi Hirahara at naomihirahara.com.
* * * * *
On Saturday, March 26, 2022 from 2 p.m. to 3:30 p.m. (PST), join award winning Japanese American authors Naomi Hirahara (An Eternal Lei) and Sarah Kuhn (From Little Tokyo, with Love) in discussion of their recently released books that explore the power of young women and the significance of place live at the Japanese American National Museum or view online. JANM members may RSVP for a Members Only Meet-and-Greet starting at 1 p.m. (PST).
For more information and to RSVP click here.