From Shin Nikkei Kyoko Takenaka (aka Jinjabrew) and Sansei Patty Nagano, we have pieces that span various themes of inspiration. From Kyoko we have lovely and fierce words on "femme" themes, from mothers to sisterhood. And knowing that Patty had just returned from Japan, I asked her if she would graciously oblige by quickly putting something together from the inspiration that abounds in the springtime—so thankful that she did. Enjoy!
—traci kato-kiriyama
* * * * *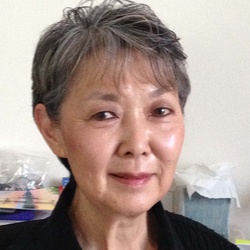 Patty Ito Nagano is a retired elementary school teacher. She moved to Downtown Little Tokyo with her husband Steve in 2011. She loves living in Little Tokyo where she is busy volunteering for many events and organizations in the community. Patty enjoys spending time with friends, family, and especially with daughter Kelsey, Kelsey's boyfriend Marcus, and their dog Oliver. Traveling with Steve and finding interesting places with delicious food is one of her favorite things to do. She also likes being healthy with exercise, diet, and staying active attending marches and rallies.


Anticipation
Years of longing and wondering if this would be
the perfect day to see cherry blossoms in Japan.
Eager as I approach the entrance of majestic Himeji Castle
my heart starts to pound with excitement.
Among the huge crowd I walk the path of trees covered in white…
everyone tries to take their best photo.
It was breathtaking to see the abundance of cherry trees
filling the castle grounds.
Each tree filled with newly bloomed sakura blossoms
with delicate white petals.
In the center of each flower a perfect star
dusted with pink to enhance its beauty!
Lucky to witness the beautiful cherry blossoms I embrace the
warm feeling as I bask among the floating petals.
When time to exit through the enormous wooden gate I hesitate.
Not wanting to leave I glance back at the stunning sakura trees
surrounding the most beautiful castle in all Japan.
Beyond my expectations full of wonderful memories
I whisper…"Thank you! for an amazing day!"
* This poem is copyrighted by Patty Ito Nagano (2018)
* * * * *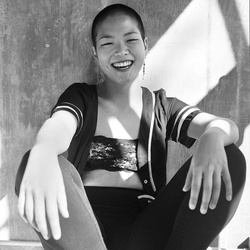 Kyoko Takenaka (Jinjabrew) is a Shin Nikkei queer multi-media artist, singer-songwriter, filmmaker, and actress based in Los Angeles; recently their interest lies in combining all of these mediums. Their name Kyoko (響子) means "vibrations of sound child" in Japanese. Heavily influenced by artist-activists such as Fred Ho and Nina Simone, Kyoko believes in artistic expression as a conduit for personal and collective liberation. Their work centers on the hyphenated identity. Kyoko's work has been featured on the Bruce Lee podcast, performed at JANM, exhibited at Autograph ABP gallery in London (Chop Sueyism, 2016); and they premiered their first multi-media performance art show, ROOTED LOVE at Human Resources in Los Angeles. Their self-directed music video, Prince, was recognized by the Voiceless International Film Festival.


Mothers
I thank all the mothers
too selfless to stay at home
thought better for children
and swallowed aliases as the "aliens".
I thank all the mothers—
shining an example of unconditional love
for their boys, soon to be men; for a new generation.
I thank all the mothers—
who have paved the way for love
who accepted ambition as luxury;
so that one day, we could argue their silences.
I thank all the mothers who cook
I thank all the mothers who don't.
I thank all the mothers who invested their love
in creating greater psychological well-being for men,
giving them an advantage that neatly coincides
in supporting a patriarchal hierarchy—
and still, choose love.
I thank all the mothers who have smiled wide—
beaming the incomparable joy one can attain
simply through the act of loving.
I thank all the mothers who have exemplified—
empowering a matriarchal society would mean more
love for everyone.
Receiving love is hard,
giving it even harder.
Let us all carve space
to prioritize love
and to make our mothers proud.
* This poem is copyrighted by Kyoko Takenaka (Jinjabrew) (2018)

A call for women and femmes
I want us to be
an astronaut, a physicist, a drummer with slick wrists—
not a thank-you-body just assists with other dicks needs.
I want us to be
the next inventor lock your door and work them night shifts.
The one who invents, not listens - to others vents.
A venture capitalist—
the owner, not the wife of—
I don't want your "thank you's"
let me feel that labor
or just stand by the harbor
----
you might hear us coming from the
undiscovered belly of the beast
for we are ancient
yeah we've fueled
generations and yeah we're through
being thanked
for our labor
you will hear us coming from the
undiscovered belly of the beast.
* This poem is copyrighted by Kyoko Takenaka (Jinjabrew) (2018)