Big Steps for Little Friends 5K Run/Walk/Ride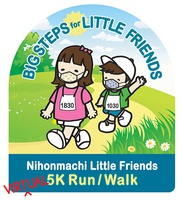 Nihonmachi Little Friends (NLF) will hold its seventh "Big Steps for Little Friends 5K Run/Walk/Ride" virtually, from Saturday, October 3 through Monday, October 12, 2020. Proceeds from this fundraising event will benefit the children's programs of NLF.
Registration for the event can be accessed through NLF's website at www.nlfchildcare.org. There will be various virtual options available to choose from, including scavenger hunt routes, as well as other outdoor and indoor experiences to do in a safe and fun way. This year, there is a ride option to bike, scoot, skate, etc., in addition to running or walking. Each participant will be entered into a raffle drawing with the first prize being a 2 night stay in Napa. A virtual Cheer Celebration on Sunday, October 18, will announce the event and raffle winners.
NLF is a nonprofit community-based organization providing Japanese bilingual and multicultural preschool and K-5th grade after-school programs to over 200 children annually, in the heart of San Francisco's Japantown since 1975. Due to the current pandemic, its preschool programs are operating at 50% of total capacity while its After School Program is at 35%. Its programs use a creative project based learning approach to the curriculum which encourages critical thinking and problem solving skills development.
Contributions to NLF can be made on-line through NLF's website, or mailed directly to NLF at 1830 Sutter Street, S.F., 94115. Donations are tax-deductible to the extent allowed by law. For more information, contact NLF at (415) 922-8898 or via email, nlfchildcare@gmail.com.

mkambayashi . 更新日 9月 22 2020 3:37 p.m.
---