Moving Day program presented by GFBNEC
Japanese American National Museum
100 No. Central Ave.
Los Angeles, California, 90012
United States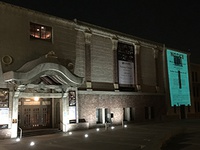 Each night through August 11, from sunset to midnight, Moving Day presents outdoor projections of Civilian Exclusion Order posters, which were issued during World War II to inform persons of Japanese ancestry of their impending forced removal and incarceration. The date of each projection will coincide with the original issue date of the order being projected. Projections take place on the façade of the museum's Historic Building, the site of Los Angeles' first Buddhist temple and a pickup point for Japanese Americans bound for concentration camps during World War II.
During the run of Moving Day, JANM and several community partners will present a series of dialogues and events grappling with the legacy of the WWII incarceration of Japanese Americans. This program will be presented by Go For Broke National Education Center. Please check back for details.
For a complete schedule of Moving Day programs, visit janm.org/instructions-to-all/movingday.
In conjunction with the exhibition Instructions to All Persons: Reflections on Executive Order 9066
Please see janm.org for updates.

JANM . 更新日 6月 15 2017 3:12 p.m.
---