Author Discussion—Two Faces of Exclusion by Lon Kurashige
Japanese American National Museum
100 North Central Avenue
Los Angeles, California, 90012
United States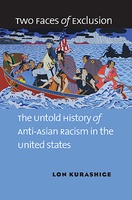 From the Chinese Exclusion Act of 1882 to the incarceration of Japanese Americans during World War II, the United States has a long history of anti-Asian policies. In his latest book, author and USC Associate Professor of History Lon Kurashige demonstrates that despite widespread racism, Asian exclusion was not the product of an ongoing national consensus; it was a subject of fierce debate.
Two Faces of Exclusion examines the organized and well-funded opposition to discrimination that involved some of the most powerful public figures in American politics, business, religion, and academia. In recovering this opposition, Kurashige explains the rise and fall of exclusionist policies through an unstable and protracted political rivalry, arguing that exclusion-era policies were more than just enactments of racism—they were also catalysts for US-Asian cooperation and the basis for the 21st century's tightly integrated Pacific world.
Join Kurashige for a stimulating discussion that will include a special focus on events leading up to the WWII incarceration of Japanese Americans.
Free with museum admission. RSVPs are recommended

JANM . 更新日 2017年3月11日
---