Book launch Party for Angel Island: Immigrant Gateway to America with authors Erika Lee and Judy Yung
Fort Mason Center, Landmark Building A, Golden Gate Room
38 Fort Mason
San Francisco, California, 94123
United States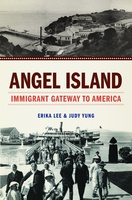 NJAHS is pleased to mark the centennial of the Angel Island Immigration Station opening with a co-sponsorship of the book launch for ANGEL ISLAND: Immigrant Gateway to America (Oxford University Press). The authors, Erika Lee and Judy Yung, will present a book talk and slide show followed by a reception and signing. Free admission!
In this landmark book, historians Erika Lee and Judy Yung provide the first comprehensive history of the Angel Island Immigration Station. Drawing on extensive new research, including immigration records, oral histories, and newly-discovered inscriptions on the barrack walls, the authors produce a sweeping yet intensely personal history of Chinese "paper sons," Japanese picture brides, Korean students, South Asian political activists, Russian and Jewish refugees, Mexican families, Filipino repatriates, and many others from around the world.
ANGEL ISLAND is the official publication commemorating the immigration station's 100th anniversary. A portion of the book sales will benefit the Angel Island Immigration Station Foundation.
Please visit www.aiisf.org for more info.

njahsdev . 更新日 7月 14 2010 2:58 p.m.
---