Opening: Quilts by Ruby Nishio
Future Studio Gallery
5558 N. Figueroa St.
Los Angeles, California, 90042
United States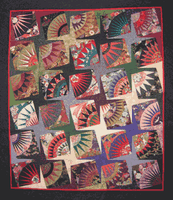 Ruby Nishio grew up in Los Angeles and was interned at Heart Mountain relocation camp during WWII. After returning to Los Angeles she began working at Cahill in Beverly Hills, sewing and designing wedding gowns. She was very talented and adept at doing patterns and creating wonderful gowns and custom clothing. For the past 18 years she has used her talents in creating beautiful quilts. Ruby Nishio is an amazing quilt artist and has won many awards for her work. This is her first one person show.
Nishio has been sewing for over 70 years. She has done all types of handwork, from custom dressmaking, knitting, tatting, crocheting and embroidery. In 1992, she transitioned into making quilts. The imagery she uses is taken from her personal interests. She loves gardening and many of the patterns she uses are of flowers and nature. She stitches fabric pieces together to form repetitive patterns that are then hand quilted. One quilt in the exhibition, 'Trip Around the World', 1998, includes 2193 two-inch squares of flowered fabrics where the stitched edges of each piece lose their sharpness and blend with the pieces next to each other forming an impressionist patterned garden. In 'New York, New York', 2005, echoes of the Statue of Liberty are depicted in the patterns, while the colors and fabrics are reminiscent of Broadway by way of the Ginza. Expressing her love of gardening and traveling, she has created wonderful pieces that are truly works of art.

futurestudio . 更新日 7月 09 2010 12:15 p.m.
---