Exhibition: Erika Nakasone from June 5 to 14, 2006 in Tokyo
Residence of the Embassy of Peru
Higashi 4-4-27, Shibuya-ku
Tōkyō, 150-0011
Japan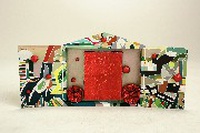 [inline:1]
EMBASSY OF PERU
News Release
TOKYO, May 15, 2006 – The Embassy of Peru announces an individual exhibition of works of the distinguished Japanese-Peruvian painter Erika Nakasone. "In Japan: 2003 to 2006," as the exhibition is titled, will be held June 5 to 14, 2006, in the residence of the Embassy and will be open to the public, by telephone appointment, during weekdays.
Born in Lima, Erika Nakasone is Peruvian of Japanese descent. In 1995, she graduated from Peru's School of Fine Arts, receiving the Gold Medal for outstanding achievement in her painting specialty. Her work has been shown widely, both in Peru and abroad. In 2001, the Prefecture of Okinawa awarded her a scholarship to pursue studies in Japanese painting, and, in 2002, Japan's Agency for Cultural Affairs granted her a further scholarship as Invited Artist. It was as a result of the latter award that Ms. Nakasone could continue her probe for a visual and integral language that is both her own and fitting of her Japanese-Peruvian identity, a probe she began as a student at the School of Fine Arts of Peru.
The Embassy of Peru has the pleasure of organizing this exhibition and regards Erika Nakasone's work as strong contribution to the cultural, historic, and human bridge that unites Japan and Peru.
Exhibition Details:
Dates: June 5 to 14, 2006 (except Saturdays and Sundays)
Time: 10:00 a.m. to 1 p.m., and 2 p.m. to 5 p.m.
Reservations: Telephone 03-3406-4243
Location:
Residence of the Embassy of Peru
Higashi 4-4-27, Shibuya-ku, Tokyo 150-0011
Access:
Bus 3 from Shibuya Station, East Exit. Get off at the stop for "Kokugakuin University" and walk back 50 meters.

yn . 更新日 2010年7月9日
---