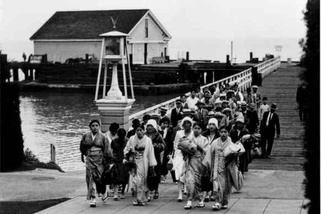 Yukiko Furuta was not a picture bride and she did not remember meeting any picture brides in the area. Her marriage was arranged by family and friends.
[inline:Wintersburg - Japanese picture brides - Angel Island immigration station.jpg]
C.M. Furuta—who had been living in America since 1900—traveled to Japan to meet his prospective bride. "…One day this lady asked her to go to a public bath house with her," explains the translator for Yukiko Furuta's 1982 oral history interview with CSU Fullerton history professor Arthur Hansen.
"When they finished taking the bath, this lady told Mrs. Furuta, 'Go …