APA Spotlight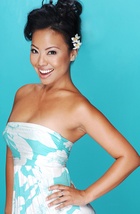 Gina Hiraizumi is one of the hardest working people in Hollywood. I've been a big fan of her from afar but recently we were both invited to Japan for a conference and I found out that not only is she a super talented actor/singer, but also one of the most down to earth and funny people I know.
[inline:gina_a_03.jpg]
Gina has been in countless television shows, sung the national anthem all around the country, and is currently working on her first music album.
I sat down with Gina for a few moments and asked her 8Questions:
Tell us a little …