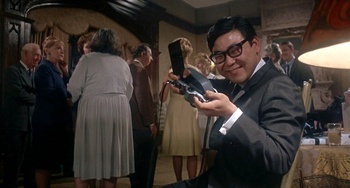 SG: What was your impression of the role you were given in the film?
EH: I asked Roman about that. He said: "If you look around you see these Japanese businessmen all over the place and they all have cameras. They're in groups of three and four and five, and they're running all over the world—Europe, America—and they all have cameras. I wanted to put that in, so you're it!"
SG: Your character is quite conspicuous in the final scene. It's kind of an odd character to discover there in that scene of the story.
EH: …