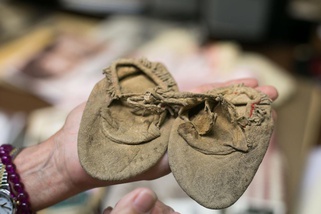 YAKIMA, Wash. -- Yoshiko Hide Kishi gazed at the small buckskin moccasins in her cupped hands as she recalled her early childhood in rural Toppenish.
Her father and mother, Mantaro and Kiyo Hide, were farmers with five children, Yoshiko their youngest. Her father raised several crops and Kiyo helped him amid her household duties, which included making dresses for Yoshiko because money was tight.
The moccasins came from their landowner, George Adams, a citizen of the Yakama Nation in White Swan. They are soft, with little adornment — ideal for a toddler learning how to walk.
"I was 7, 8 …