"It feels right," says Jane Beckwith, director of the Topaz Museum in Utah. "It feels like the painting is coming home." She is talking about a new donation, a Chiura Obata work coming to the Topaz Museum from Bainbridge Island in Washington State.
How Obata's painting reached Bainbridge Island, and who donated it, is still a mystery.
Every year, the Bainbridge Island Rotary holds an auction and rummage sale. The event began in 1960, to purchase land for the Bainbridge Public Library, and has grown to be large and successful, fundraising close to $8 million over the years since it began. Donations arrive by the truckload and carload, and are sorted by hundreds of volunteers into 39 different departments for the sale. Jim Laws, Rotarian, estimates that last year, close to 1,000 cars would have passed by the middle school, which serves as the donation site.
In 2016, the Fine Art Department of the Rotary Sale received a donation that made volunteers pause. A painting of a tower, barbed wire, barracks, armed guards, a crescent moon overhead. A scene that's familiar enough to residents of Bainbridge Island: first site of Japanese American forced eviction during World War II, home to a National Parks-designated Japanese American Exclusion Memorial. In fact, the Bainbridge Island Rotary Club donated to the memorial efforts in 2004. Auction volunteers quickly decided that they needed more information about the painting. "Maybe this is something we shouldn't sell," some said.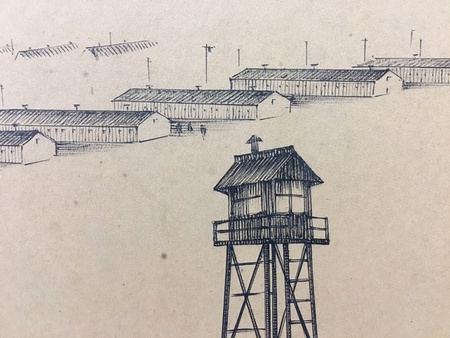 Efforts were made for professional appraisal, and local Islander Greg Brown, an appraiser of Asian art, volunteered his time and efforts (as he has for a few years) to find out more information. "I get the impression he took one look at this picture," Laws says, "and knew it was important." "It was a labor of love and respect for the Rotary," Brown said, in a reported article for the Bainbridge Review. As if the subject matter and its signature moon wasn't enough, the artist's signature in the lower left corner was cause for even more excitement: Chiura Obata.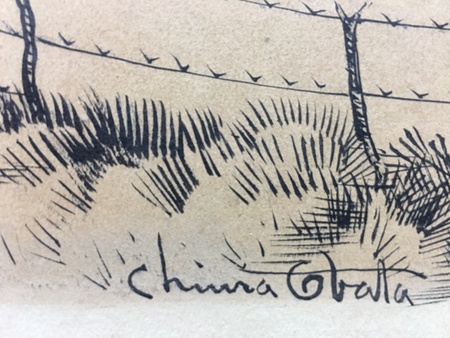 Obata, of course, is the famous Japanese American artist and teacher, a professor at UC Berkeley and famous for his watercolor landscapes and wood block prints. Unlike his other more famous paintings of camp landscapes, this Topaz landscape highlights prominent features of imprisonment, including the armed guards and barbed wire. And it's painted as if standing outside, rather than inside, camp.
Careful disassembly revealed more details: the painting was custom matted and framed by the U.S. Department of the Interior. Brown eventually found that the cover was used as the dust jacket image for the 1946 first edition of the sociological wartime study, The Spoilage.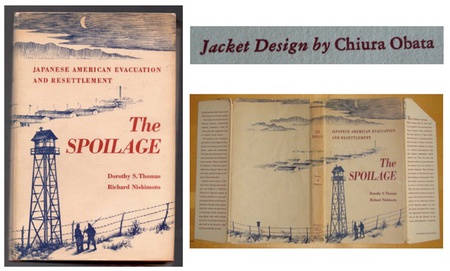 The Spoilage is the first published volume of the Japanese American Evacuation and Resettlement Study, defined by Densho Encyclopedia as "a multi-disciplinary academic study on the migration, confinement, and resettlement of Japanese Americans during World War II," is controversial. Dorothy Swaine Thomas, UC Berkeley sociology professor, employed a number of fieldworkers to collect data for this multi-volume study, many of them Japanese American themselves. After a time, due to group tensions that plagued so many of the camps, some of these workers were considered suspect, or "inu" informants working for the government; others were accused of ethical lapses of their data collection and dissemination.
At the time of this writing, it is unclear how Obata's painting came into Dorothy Swaine Thomas's hands, or if she commissioned it for the cover of The Spoilage. There are no records of direct correspondence between the two, although Thomas does credit Obata in the front cover. Greg Brown hypothesizes that Thomas visited Obata at the Topaz camp hospital, where Obata completed at least one painting; her records indicate that she visited Topaz when Obata was there, shortly after he was attacked due to growing tensions about the loyalty oaths.
As Topaz Museum director, Beckwith was also excited to hear about the painting and its provenance. "We were of course very interested in it," she said, but she was unsure if the Rotary was going to put it up for bidding.
"When we learned the history," says Laws, "there was little hesitation in our direction, which was to get the painting to [the] Nikkei community. Frankly I do not know how much it would have had to be worth to create a dilemma of selling it versus donating it to the appropriate body but [its] estimated value did not trigger that dilemma for our club." The Rotary then reached out to local Nikkei community members Bill Nako and Darleen Kordonowy, who told the Rotary "respectfully," Laws says, that "it should go to Topaz."
The Bainbridge Island Art Museum stored the painting, and local Roby King Gallery carefully reframed it for display. Any further information about the donation may be shared (anonymously, if preferred) with appraiser Greg Brown (gregcbrownassociates@gmail.com).
At the end of July 2017, Beckwith traveled to Washington State to receive the painting. "We have 10–12 Obata [paintings] already," she told me by phone interview, "but we're very glad to have this one." The Topaz Museum's recent opening of permanent exhibits in July 2017, and "we are incredibly grateful," said Beckwith, "that they felt like [this painting] belonged at Topaz; I feel the same."