When my Nisei mother first moved from the East Coast to northern California in her eighties, she left behind the Japanese American community she had been part of since her childhood in New York City. She said goodbye to those she had played stickball with in Brooklyn, and the lifelong friends from the Japanese church in Manhattan where she'd gotten married. At first, making new friends seemed daunting. Thankfully, someone told us about Extending Connections in Alameda. My mother felt hesitant, but when we pulled up to the curb at the church, a quartet of women with salt-and-pepper hair greeted her effusively. "Welcome, Kiku!" they called out, and they held out their arms as she climbed the steps into the church hall.
They arrive in wheelchairs, with every sort of walker, cane and some without any aids at all, glad to be "genki" enough to climb the four steps to the church fellowship hall unassisted. On the 2nd and 4th Wednesday of every month, nearly sixty Japanese seniors gather in the fellowship hall of Buena Vista Methodist Church fellowship hall in Alameda. The four Niseisisters who run the program have already been here for hours – carrying boxes of handicrafts, or silly hats, setting out stretchy therapy bands and bean bag weights by every chair, or running up and down the stairs to the basement kitchen, where a hearty lunch is being cooked with loving care.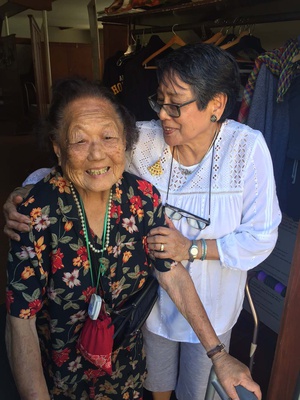 Twenty-seven years ago, Jo Takata started feeling concerned for her elderly Issei father. He was becoming more isolated after he stopped driving. He no longer enjoyed playing golf. So she organized a gathering of other older Japanese church members at the church parsonage. Seventeen seniors showed up, and they brought their own lunches in a brown bag. They seemed to enjoy getting together, just sitting and talking, so it became a regular thing. Word spread through the Japanese American community, and soon seniors were showing up from the Buddhist temple across the street, and from as far away as El Cerrito or San Leandro. Only three of those original seventeen are still coming, but the group has grown to over 60 regular attendees ranging in age from 72 to 101 years old.
Today, at the 27th anniversary of Extending Connections, they serve a fancy prime rib meal, along with green beans, the ubiquitous giant platter of steamed rice, and a pineapple Jell-o salad and anniversary ice cream cake. Attendees are bedecked in festive and silly hats to mark the occasion. A few have brought their own, but Jo knows that 80 and 90 year olds don't always remember these things, and she has plenty to pass around. She gives my mother a boxy red hat from the 1950s.
The schedule is the same every time: after a 9:30 opening, the group starts off with gentle exercises led by Yuki, white-haired, bearded and fit nonagenarian. For decades, Yuki led the exercises in person from the stage, but recently it's harder for him to get here, so they project a video of him leading the routine, and everyone follows along. Weights, therabands, tai chi, balance. Next is a coffee break – a table laden with homemade snacks and treats. Although my mother no longer bakes, she always nudges me to stop and pick up a box of donut holes to share.
After the coffee break, Jo takes the microphone and leads everyone in singing old favorite Japanese and American tunes like "You Are My Sunshine." The group's theme song is the Japanese folk song Haru Ga Kita, or "spring is here." Jo says, "It's our philosophy that no matter how old we are, spring is always with us." Many of the members remember singing this song as young children, learning it from their own Issei parents.
Each gathering features a main presentation before lunch. "It used to be hard to get people to come and offer a presentation," says Jo, "But now they ask us—when can we come back? I think they like our food," she laughs. They've had ukulele groups and other entertainment, and practical programs like elders' legal aid or, how to write a will. Jo tells me, "To set up an end-of-life personal plan, we give everyone a big envelope where they can put their letters, and make their own list of important wishes and thoughts. They can write what they want, including any wishes for their service." She says that in spite of the serious nature, it helps people feel involved, to take ownership and also to come to terms with end of life issues.
The group also appreciates guided discussions that allow them to share personal reflections. They talk about things like internment, the war, childhood and family memories. Today, everyone had paper autumn leaves (hand cut by the sisters, of course). "On one side, write a good thing about growing older and on the other, advice you would give to young people," instructs Jo. "One good thing? It's better than the alternative!" my mother calls out, and people at the table laugh, and the room ripples with laughter. As for advice, the most common is repeating phrases "Be kind," or "be nice to each other." Heads nod around the room.
I notice that not everyone here is Japanese. "No," says Jo, "It's not just Niseis anymore. We've also had Chinese and Filipino people, and hakujins! That's why it's called Extending Connections—because it's lot like an extension cord, connecting and plugging in all over." They'd like to get more younger people involved, because as the population grows ages, they're more limited in what they are able to do. It used to be all Nisei and Issei (first generation), but now there are a few Shin-Issei—new Issei who just arrived from Japan who need help with language and getting acclimated to living here.
Jo and her sisters used to take the group on regular bus trips to Cache Creek casino, but now most of the participants are older and frailer. It's a big and somewhat risky prospect to take 50 or 60 elders to a casino now. Their mobility is limited, and they need more physical and individual support than the four sisters can provide. "We still like to do local trips, though, when we can." They've traveled to San Jose Japantown, the Asian Art museum, and an upcoming trip is plannmed to the Alameda Little Theater to see "Oklahoma!"
Jo Takata, her three sisters—Judy Furuichi, Susan Shimamoto and Carol Muramoto—and their brother, Kent Takeda have been shouldering the bulk of this program for decades. Jo manages the calendar, including a printed monthly newsletter, plans the program and all of the outings. They have had a cadre of volunteers, but many of the main helpers are now in their 80s and 90s. "They used to cook and shop, but they just can't anymore."
Extending Connections provides an invaluable, nearly invisible service to Japanese seniors in the East Bay. "The greatest enemy of growing older isn't finances or even illness," says Jo. "It's isolation. When people lose their ability to socialize, things get really bleak." But this is a way to ensure, at least twice a month that they are guaranteed a warm welcome, a home-cooked meal, and some genuine connection. Through these biweekly gatherings, Jo, who once started this group to ward off her own father's isolation, has built a family through these biweekly gatherings.
Eventually, it will be their turn, and mulling on the future of Extending Connections, one of the sisters stops for a moment and her face is serious, her eyes a little wet. "Is it going to keep going? Will someone do this for us? I hope so. I hope the Yonsei, the younger generation, and others, will step up."
For now, Jo and her sisters seem to have boundless energy. Jo's plate remains characteristically untouched as she leaps up to make sure that a latecomer gets a piece of anniversary cake, that each volunteer gets a thank-you rose after they cleanup. These generous sisters are nearing the age of some of the youngest recipients. May they have the opportunity to rest when they need to, and for a new generation of volunteers to continue this heartfelt tradition.

Extending Connections is funded solely by private donations, mostly from grateful family members who know what a gift this is to their elder relatives. To support the ongoing operations, tax-deductible donations may be sent through Buena Vista Methodist Church in Alameda. If you are interested in volunteering, come to the church the 2nd and 4th Wednesday of the month!