Returning Home to Japan—and Her Father's Rice Balls—for the First Time
In 1956, Fumiko Lopez and her husband, Luis, arrived in San Francisco. They got on a Greyhound bus heading to Southern California and started living in a renovated garage at Luis' sister's house in the city of Los Angeles.
"We didn't have a house, a car, or money. We had nothing. We started our life with just one suitcase. Our garage room had no kitchen or bathroom. My husband was working in the dining hall of the army, purchasing food for hundreds of military people."
"Luis cared about his mother very much. She had only one arm, but she worked sewing jobs to pay the tuition to send him to a private Catholic school. It might have come from his Mexican heritage and religious faith in the Virgin Mary, but he knew the effort it took for his mother to raise him, so he respected her from the bottom of his heart."
How did his family treat Fumiko? "It wasn't good or bad. They never treated me harshly. But the way they treated me wasn't special, either."
In 1959, she gave birth to her son, who they named Luis, Jr. On May 5 (Boys' Day), they celebrated the day in the Japanese way. Other seasonal festivals held special memories, and Fumiko recalls a Doll Festival she just cannot forget.
"I had a dream. In that dream, the hina dolls my parents bought me were all crying really hard. Then I realized that it was March 3. I thought that they were crying because they missed me."
Before she had that dream, Fumiko had taken her son to Japan in 1963. "My parents said they wanted to see their grandchild, so I took him to Japan for the first time. When my son, at age three or four, asked my father, `Grandpa, can you give me money?,' my father happily gave him some coins, saying `You're such a boy.' He took us to the shopping avenue near his house, and on the day of our return to the U.S, he made rice balls with humble hands and handed them to me—'eat these on the plane on your way home.' I heard that he cried in his bed that night. I feel so grateful for my parents—and the rice balls that my Meiji-era-born father made for us."
After that first visit, Fumiko went back to Japan almost every year until her parents passed away. The only regret she has about raising her son was that she didn't have him learn Japanese. "I was too busy trying to adapt to American life, and I couldn't send him to Japanese school or have him learn the language." Because of that, she suggested to her son and his wife that they send their children to Japanese school. Fumiko herself worked as a volunteer and played with children in the kindergarten class at the same Japanese school.

Because I met an American man
Her husband Luis worked in the army until retirement. After starting a life with nothing in hand, they worked hard through the years, and eventually they were able to own a house. With their grandchildren all grown up, the two were enjoying life after retirement. It was just at that time, right before their golden anniversary, when Luis was diagnosed with pancreatic cancer. It was January, 2006. As Luis required hospice care, Fumiko spent the few weeks before his death at the side of his care bed with almost no sleep. And on February 11, Luis died at home. "When he passed away he was groggy and was not able to talk. So there were no words from him, like `Thank you' or `I'm happy to have been your husband.' Still, if I were to send him a message, I would tell him `Thank you.'
I'm grateful for my husband, and, of course, I want to say `Thank you' to my father and my mother, too. Even to this day, before I go to bed, I say `Father and mother, another day has ended in peace.' And to my husband, I say `Good night, Luis-san.' I do that every night out of my appreciation for them."
A year before his death, Luis had booked a hotel in Hawaii to celebrate their golden wedding anniversary in June, 2006. When Fumiko called the hotel to cancel the reservation, she was asked the reason. She replied, "Because my husband passed away." Hawaiian music was playing in the background, and Fumiko collapsed in tears. If only he had lived a little longer—she realized that her husband was truly gone.
After Luis' death, she moved from the house where she lived with her family to one of the 6-unit apartments she owns in Ontario. She manages the tenants on her own.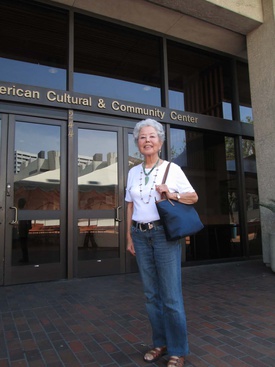 Now she enjoys going to senryu gatherings on the first Friday and haiku gatherings on the second Sunday, both of which are held in Little Tokyo. Fumiko doesn't drive the freeways, so she takes the Metro train to get there. "On Sunday it takes time to make transfers at Union Station, so I wait for 45 minutes. It takes two hours and a half to get there."
The second Sunday of May was Mother's Day, but instead of spending a day with her only son and his family, Fumiko got on a train and went to Little Tokyo for a haiku gathering. That's how important a part of her life haiku and senryu have become.
"I'm happy to be Japanese. I'm really glad that as a Japanese person, I can read kanji. As you know, one kanji has different meanings. And as for English, now I regret not having studied enough. But I am Japanese. If I could start my life again, I would not come to America. I would live in Japan. I came to America not because I wanted to come here. The reason I came here was because my husband was American."
I wondered if Fumiko had interacted with other women who lived under similar circumstances with American GI husbands. "I've never attended such gatherings. I have met some personally in places like a market or a post office as they spoke to me in Japanese. We kept in touch for a while, but most of them have passed away." Fumiko says that she doesn't necessarily like to make friends with people just because they live under the same circumstances. Her dignified attitude that there is no point in comparing her life to that of others is expressed in her own poem:
A way of life
Not going to change
A Japanese pepper