"He's an honest person" was my first impression
Thirty years ago I read a book titled Brides in America. I was greatly inspired by the lives of Japanese women who married American officers after the war and went across the ocean. I wanted to hear their stories in their own voices. There wasn't much time left. I sent emails to some people to see if they knew anyone, and soon one of them told me about a woman named Fumiko Lopez. When I talked to Fumiko for the first time, her upbeat way of talking gave me a strong impression. And she so kindly said to me, "Things that happened to me are all true, so I'll tell you about them." About a 40-minute drive east of downtown Los Angeles, there is a quiet town, Ontario. Fumiko owns a 6-unit apartment in the historic preservation district and lives in one of the rooms there.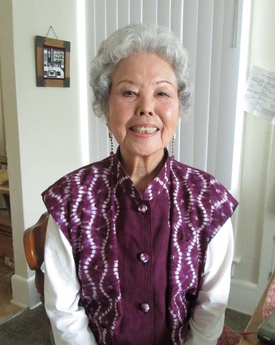 Her husband, Luis Lopez, passed away from cancer ten years ago, and after his death, Fumiko put their house on lease and moved to the apartment where she currently resides. Fumiko is 84 years old, but she looks much younger. She is small in stature and has dignified eyes. In Tokyo, she met Luis, a Mexican-American who was born and raised in Los Angeles, while he was working as a GI and was about to finish his term in 1955. They married in Japan and moved to the U.S. in 1956.
Fumiko was born in Tokyo in 1932. During the war, she evacuated to Iwate Prefecture, her father's hometown, and went to school there. She worked as an operator at a telegraph and telephone station in Morioka City and changed jobs to work at Asahi Rayon in Shinagawa, Tokyo.
"They were making women's underwear. They sent their employees to department stores in Shimbashi and other places like Mitsukoshi and Isetan to sell the products. I wore a uniform and worked in a department store in Shimbashi and Isetan in Shinjyuku. I was selling socks and was doing well. Around that time, a friend of mine introduced me to my husband. We had a blind date of four, two men and two women, and my husband was a talkative one—and so was I. And the talkative ones got together."
Fumiko was taking calls in English when she was working as a telephone operator, so she didn't have a problem understanding spoken English. I asked her about her first impression of him.
"Well, he was an honest man. I got an impression that he didn't lie. He would do what he says he would. And he was exactly like that."
As they both became attracted to each other, they started dating in Tokyo. But it had only been 10 years after Japan's defeat in war. Many Japanese people had hard feelings towards a Japanese woman who walked side by side with an American officer.
"One day, when I was walking in Ueno Park with my husband, a stone came flying our way. It didn't hit us, but it was obvious that someone threw it at us."

Moving out of her home with one bento box
Fumiko's family, especially her father, was also troubled by the fact that Fumiko was dating an American man. "I was the eldest daughter of the four siblings (one brother and two sisters), and my parents raised me with so much love and care. When I woke up in the morning, I would find sweets next to my pillow. Yes, what we call omeza. I haven't heard that word for a long time."
Her father, though he didn't mention it, was torn apart by the fact that his precious daughter was dating an American officer. But Fumiko, not knowing his feelings, left her house, taking one bento box from her department store when Lewis came to Tokyo Station from his new workplace, Otsu City, Shiga Prefecture, to pick her up.
"When we were quietly living in a small apartment in Otsu, a police officer came to see me. And he told me that my family was looking for me and that my father had suffered a stroke. I wondered how the police found out my place, but I asked my husband for some money to return home and rushed back to Tokyo."
When she got home, her brother accused her of causing trouble and said that their father had a stroke all because of her. However, at the time Fumiko was secretly preparing to get married already. Fumiko thought that she might have to give up on her plan, return home, and work in lieu of her father. "What should I do?" she asked her mother, and her mother replied. "Do what you like. You don't need to worry about us." "I have so much respect for my mother, who was born in the Meiji era. If she had told me to stay home and not marry a foreigner, my life would have been completely different. At 84, when I look back on my life, I think that it was the turning point in my life."
It is one kind of parental feeling that cares about the future of their children, and another one that wishes for what their children want in life. Following her mother's advice, Fumiko went back to Luis. While it took three months and twenty days since applying, their marriage became official, too. She travelled across the Pacific Ocean on a ship of the U.S. Navy named General Men and arrived in San Francisco only 90 days after their marriage application was accepted. "I still remember how I felt when I passed through that red Golden Gate Bridge, the one that I'd only seen on postcards. My husband was the only person I could rely on. I didn't have any family, friends, or money. I was thrilled with hope but at the same time got caught up in great fear. But I told myself, I can make it here because I'm with my honest husband—the only thing I could hold onto."