"I was so touched by people's kindness I wanted to do all that I could to help others"

The Great East Japan Earthquake has become an unprecedented disaster. Nearly three years have passed since the day of March 11, 2011. There was a widespread call for support all over the world in the immediate aftermath of the earthquake; and in California, too, the Miyagi Kenjinkai, under the direction of president Yoshihito Yonezawa, actively launched and expanded its charity drive.
Japan has yet to recover from the devastation as many are still living in shelters. We decided to interview Yonezawa before the third anniversary of the earthquake.
Charity drive began the next day after the earthquake: We even made visits to receive donations in person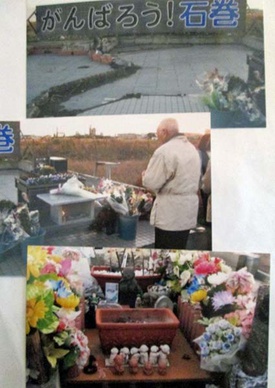 The Miyagi Kenjinkai started its charity drive immediately after the earthquake.
"We began calling for donations on our website the next day after the earthquake. We received donations from all over the United States, from New Jersey, Oklahoma, Washington, to Texas. We not only received checks in the mail, but we also made a number of visits to collect money in person. Some people wanted to meet us before they made donations. One person said that she had made a number of donations in the past but never received any final report. She told us that she would donate money only if she could confirm that it would reach the disaster-affected areas. So we made an account specifically for this charity. We ask people to pay the service fee but so far we have collected nearly $160,000."
Their charity drive is conducted in three ways. They ask people to send checks by mail, meet them in person to receive money, or place donation boxes in booths at Nikkei events.
"We went to summer festivals and tanabata (Star Festival) events (more information later) that were hosted by a wide variety of organizations such as Orange County, Shinsen-gumi, and Bridge USA. We also made T-shirts and sold them for $15 each, which we received as donations."
When we asked Yonezawa what he remembered most about the charity drive, he told us about one person, though he said he wouldn't reveal the name.
"This person wanted to make donations of tea in bulk—which was worth about 5 million yen. When we asked him why he would be so kind to make such donation, he told us that we had made donations back when his hometown was hit by disaster—though I don't remember much about it. But he never forgot about it and said he wanted to help us in return."
Soon Yonezawa asked the Miyagi Prefectural Government to have a setup for receiving the tea in two separate days. "I heard that people in the disaster areas were very happy with such great-tasting tea." Yonezawa made the arrangement remotely from America to make sure that the donated goods would reach the victims without fail.
"I felt so grateful for the kindness of this person who donated the tea. He never forgot about the past. There was another person who made a donation of $1,000 out of pocket. I wasn't sure if I should accept such big money, but this person again said that I had offered help on some occasion, though I don't remember it well. It's been over fifty years since I came to America. But when I come to think of it, I've been through so many hard times, so I've always tried to help others in need whenever and wherever I could."
Feeling grateful for lawyer who helped him with visa preparation
Yonezawa's encounter with people giving him kindness goes back nearly 60 years when he came to the US on a Pan Am plane.
Yonezawa was working as an agricultural engineer at the Miyagi Prefectural Government. He moved to the United States in 1956 when his uncle, who owned a farm in the Imperial Valley, California, called him up.
"We stopped at Wake Island and in Hawaii, too, for fueling. This Nikkei dentist I met on the plane kindly helped me fill out immigration papers. I was bringing in many yukata for my uncle's kids and his grandkids. At immigration the dentist explained to the officer that the Nikkei people wore yukata as a uniform in farming. He was worried that I might get suspected of trying to make a business out of the yukata. Thanks to him, I was able to pass immigration without any trouble. When we stopped in Hawaii, we had to wait for four hours before departure, and he asked me if I wanted to go out of the airport together. But I told him I would stay in the airport because I didn't want to cause any trouble on the way, as I didn't know anything about the place. And he stayed with me in the airport the whole time and even bought me an ice cream. I still remember that I was surprised at how big it was."
Yonezawa worked for two years in agricultural business at his uncle's farm and moved to Los Angeles where he had another encounter with people giving him kindness.
"I was preparing documents for my visa and Gongoro Nakamura, a lawyer from Okinawa, was helping me with the preparation. When it was time to pay him, he said he didn't need any money. I asked him why, and he said, 'Stay in the Nikkei community and do what you can to help others who will come after you.'"
Keeping the lawyer Nakamura's words in mind, Yonezawa agreed to take the post of president at the Miyagi Kenjinkai after retiring from UPS.