Read part 1 >>

Stood speechless at the sight of disaster areas: We will keep doing what we can

Soon we will observe the third anniversary of the Great East Japan Earthquake. In the faraway land of America, the Nanka (Southern California) Miyagi Kenjinkai has been engaging in charity activities with their heart all going out to their hometown. While it's not a big organization, with 100 family units, so far they have collected nearly $160,000—the achievement which no doubt owes much to the leadership of Yoshihito Yonezawa who has served as president for over twenty years.
Tanabata Festivals in Los Angeles help connect the Japanese in America to their hometown
After retiring from UPS where he had worked for 32 years, Yonezawa, who is from Miyagi himself, became president of the Miyagi Kenjinkai in 1992. At its 100th anniversary commemoration, 150 guests from Miyagi Prefecture came to Los Angeles and had a big celebration at the then Hotel New Otani.
"In fact, there were more guests from Miyagi than our own members. The head of a fire company asked me how many board members we had in the Kenjinkai and I said, 'We have ten members, but each of us works 1,000 times as much, which makes us a group of 10,000 human powers.'"
After the 100th anniversary, Yonezawa started the Tanabata Festival in Los Angeles. He called on people who professionally made tanabata decorations in Sendai, and they brought traditional decorations to Los Angeles. On his side in America, people made more decorations in workshop sessions, put them together with the ones brought in from Japan, and created gorgeous pieces of work. The completed tanabata decoration emblazons Little Tokyo every summer at the Tanabata Festival.
"How can we unite people in Little Tokyo? The Tanabata Festival seemed like the best answer to this question. Tanabata festivals are held in 17 places in Japan, not just in Sendai, so I think that it's a very Japanese event that can bring all the Japanese people together. The Tanabata Festival in Los Angeles which was started by president Yonezawa's call is gradually getting bigger and bigger every year," said Koki Ohba, a member of the Miyagi Kenjinkai, explaining the history of the festival.
As a consultant, his work requires many trips going back and forth between Japan and America. On his business trips to Japan, he stops by in Sendai sometimes and brings back papers for tanabata decorations to Los Angeles.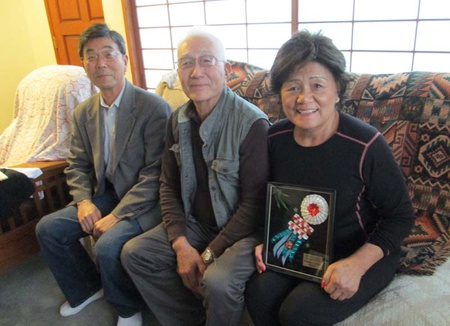 City washed away by tsunami: There was nothing left
The Miyagi Kenjinkai with its few but talented members has thus been making contributions to the Nikkei community in Los Angeles. The Great East Japan Earthquake came as a great shock. The Kenjinkai immediately took action and began its charity activities, and Yonezawa and Ohba have visited the disaster areas a number of times. Ohba made his first visit in June, 2011.
"I stood there completely speechless because there was nothing left. All buildings and just everything was gone. There was no clue of what used to be where. If it was just an earthquake, there would be remains of buildings, right? But nothing was there. It tells us just how powerful the tsunami was."
On March 11th, Ohba recorded all coverage of the earthquake that was aired in the US.
"I watched the coverage and thought that I had understood the situation in my head. But when I actually went to the site, things were beyond my imagination. It was really a miracle that those who survived did survive."
Looking back, Ohba said that the media coverage was merely part of the scene that he would have never known without making actual visits there. Ships that cast ashore in midtown and oil tanks falling over—Ohba was lost for words as he faced the real aftermath of the earthquake.
Yonezawa, too, visited the disaster-affected areas and witnessed many scenes. "There was a fisherman who had his newly built house washed away. I bought the wakame (seaweed) that he made and it was very tasty. I believe that this is another way of helping people recover."
Yonezawa told us that there was a person who offered to donate his mountain forest. "But apparently the government said no. It might have been because the government wasn't doing anything yet at the time, so they didn't want any action taken by individuals. The person who wanted to make the donation had lost his son in the tsunami," said Yonezawa.
Always caring for their hometown, Yonezawa, Ohba, and other members of the Miyagi Kenjinkai have shown their love and support. It's been 58 years since Yonezawa left Japan, and Ohba who first came to New York as an expatriate employee, has started his 45th year of life in America. They both have made families and engaged in work that they feel passionate about, and some decades have passed without realizing it. We asked the two what they remember most about their hometown.
"For me, it's the local festivals. I still remember and can picture them clearly in my head," said Yonezawa.
"I remember the faces of my friends from elementary school. Born in 1945, we didn't have much to eat but I miss the old days when we as kids still had so much fun together," said Ohba.
Their beautiful hometown was struck by the Great Earthquake. "We'll keep doing what we can," said Yonezawa.
And this summer again, there will be the L.A. Tanabata Festival, helping people connect with their hometown.
* * * * *
2014 L.A. Tanabata Festival
8/8: Opening Ceremony
8/9 & 8/10: Food, Music, Entertainment
Workshops for Tanabata Kazari
Contact the Koban
Tel: (213) 613-1911