In a previous article, I highlighted the fact that the Dodgers and the Giants had three Japanese Americans on their rosters (Darwin Barney and Brandon League for the Dodgers, Travis Ishikawa for the Giants) and how, to my knowledge, this had never happened before. I also pointed out that Ishikawa had a singular moment in Giants' play-off history by drawing a walk that spurred a rally against the Atlanta Braves in the 2010. But while a walk is an important component of baseball offenses, it does not evoke the pure emotion for fans like a key hit that wins a game. Wouldn't it be nice if one of these JA players had such a moment?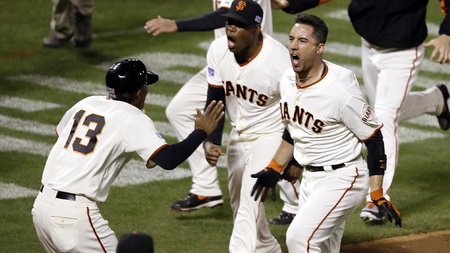 As most of you know (if you follow baseball), Ishikawa far exceeded any of my expectations by slamming a three-run home run against the St. Louis Cardinals to win Game 5 of the 2014 National League Championship Series, sending the Giants to the World Series for the third time in five years. In my article, I stated that Dave Roberts' steal of second base for the Boston Red Sox in the 2004 American League Championship Series against the New York Yankees was the greatest feat by a Japanese American in Major Leagues Baseball history. The Red Sox were losing by one run in Game Four, were down 3 games to 0, and on the brink of elimination, when Roberts was sent in to pinch run. He stole second (if he's thrown out, Boston is done) and scored the tying run, which gave the Red Sox life as they won four straight games in unprecedented fashion.
Ishikawa's homer came with two men on and no outs in the bottom of the ninth with the score tied at 3-all. The Giants were ahead in the series, 3 games to 1, so the situation was not as dire as it was for Boston. But Ishikawa's heroics far exceed Roberts' steal since he literally ended the game with one swing. As with Roberts' achievement, Ishikawa's home run will always be a memorable franchise moment, but will only be remembered by all baseball fans if the Giants go on to win the World Series. But for now (until supplanted by another amazing moment), it is the greatest feat by a Japanese American major league player. Ever. And it's not even close.
One of the great things about baseball is that if you are in the game, you will have your turn at the plate. Unlike basketball where LeBron or Kobe are going to take the final shot, or football, where Tom Brady and Peyton Manning are handling the ball in the closing seconds, baseball provides more opportunities for heroics by utility players and unknown rookies. Angel star Mike Trout only gets four or five at-bats a game, which leaves another 25-30 or more chances for others. That's why names like Bucky Dent, Aaron Boone, Bill Mazeroski and Scott Podsednik are remembered alongside Mickey Mantle, Kirby Puckett and Kirk Gibson for having delivered game-winning home runs in the post-season.
It also explains how Ishikawa, a classic journeyman first baseman, who spent as much time in the minor leagues as on a major league roster, was even in position to deliver. Numerous things had to happen, including injuries to Giant regulars, before Ishikawa was even placed on the post-season roster. The fact that Giant Manager Bruce Bochy decided to start Ishikawa in the play-offs with virtually no experience manning left field adds to the improbability of the story. I appreciated that Bochy explained his decision by describing Ishikawa as "a threat" at the plate. I like that. How many Asian American athletes do you know carry that moniker? Is Jeremy Lin a threat?
Even as a lifelong Dodger fan, I have to admire Ishikawa. I think Travis embodies certain JA cultural traits, including determination, preparedness, humility and being a good teammate. Most of us have heard or read by now that Ishikawa almost quit baseball when he lost confidence in his hitting and was released by the Pirates. But, the fact he was willing to join the Giants' minor league club in Fresno, with no guarantee that he would ever have a chance to return to the majors, and that Ishikawa was grateful for any opportunity, makes me feel connected to him as a Nikkei. I understand why Ishikawa would, at the age of 31, make the trip to Fresno one more time. He needed to know if he still had the ability to play. If not, well, time to move on to something else. (It would be very JA of him if his parents insisted that he have a back-up plan to his sports career, like teaching or accounting.)
For now, Ishikawa has probably prolonged his career at least another year, and maybe more. Even he doesn't stick with the Giants (and if they win the World Series, they may just keep him for good luck), I would think a few general managers whose teams play in ball parks with short right field fences (Yankee Stadium?) might give him a call. I saw Travis blast a home run against the Dodgers into McCovey Cove, so I know that Ishikawa is more than a threat. He has shown he can deliver and has left his mark in baseball history. Ganbatte!