La investigación de su tesis la ha llevado a visitar Turquía y a recibir un valioso premio. Nadia Yoza Mitsuishi es una joven que ha dedicado su carrera al estudio de las telecomunicaciones en una región atmosférica poco explotada para las comunicaciones comerciales y en la que ha encontrado una gran motivación científica.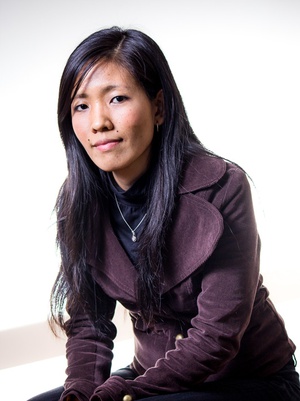 Las telecomunicaciones no solo ocurren aquí, en la Tierra, entre teléfonos, computadoras y celulares. Cuando se trata de comunicaciones inalámbricas, es posible también usar las capas más elevadas de la atmósfera terrestre para transmitir nuestras llamadas, correos electrónicos y demás mensajes.
Más aún, muchas de nuestras comunicaciones viajan miles de kilómetros por el espacio, ese lugar oscuro y enigmático donde los satélites en órbita se encargan de reflejar las transmisiones que contienen nuestras conversaciones cotidianas.
Desde un desierto al este de Lima, en la localidad de Jicamarca, en el distrito de Lurigancho (Chosica), Nadia Yoza, una joven nikkei de menuda figura, se dedicaba a estudiar la propagación de ondas electromagnéticas para aplicaciones en telecomunicaciones. Fue ahí, rodeada de antenas que parecen cactus alineados sobre la arena, donde empezó a trabajar en un proyecto de comunicaciones de voz y datos usando el electro-chorro ecuatorial.
Este fenómeno, que ocurre en la ionósfera, a aproximadamente 100 kilómetros de altura, puede ser empleado como un canal alternativo para las comunicaciones en la banda de VHF, de manera similar a las comunicaciones por onda corta, pero con otras características y ventajas particulares.
"La ventaja es que es una forma de comunicación segura, que puede emplearse en casos de emergencia, como cuando ocurren desastres naturales y el resto de medios no funcionan", explica Nadia Yoza, quien empezó a interesarse por las telecomunicaciones antes de que se creara esta carrera en la Universidad Católica del Perú, en el 2002, a la que ella ingresó al año siguiente.
Pequeña científica
Desde chica le interesaron las telecomunicaciones, dice Nadia, quien sentía fascinación por los celulares, esos aparatos que se inventaron en Estados Unidos, en 1973, y que tardarían 17 años en llegar al Perú, cuando la pequeña Nadia empezaba a hablar con claridad, como para poder utilizar uno de aquellos novedosos aparatos que alcanzaban medio kilo de peso.
En el 2007, cuando Nadia terminaba su carrera universitaria, en el Perú había cerca de 15 millones y medio de teléfonos celulares. Cuatro años más tarde, esa cantidad se duplicó. La programación, la comunicación inalámbrica y el ciberespacio eran parte del vocabulario que se extendía en la ciudad y especialmente entre sus compañeros de clase y oficina, en el Radio Observatorio de Jicamarca.
"Cuando llegas por primera vez al Observatorio, el paisaje que lo rodea se asemeja a los cráteres lunares. Sin embargo, el Radio Observatorio de Jicamarca se impone como nuestro oasis en medio del desierto donde florece la ciencia", dice Nadia, recordando que la institución acaba de cumplir 50 años de fundación, una cifra nada despreciable, sobre todo en un país que no se destaca precisamente por invertir en este campo del saber.
"Es el radio observatorio de la ionósfera ecuatorial más importante del mundo y tiene una de las antenas de mayor tamaño, de 300 por 300 metros cuadrados, la cual está formada por más de 18 mil antenas dipolo", añade Nadia, quien cree que esta institución, donde ella se ha sentido en familia, no ha recibido en el Perú el reconocimiento que se le debe, llegando inclusive a estar amenazada por el aumento de las poblaciones circundantes y de las empresas que se expanden en sus cercanías.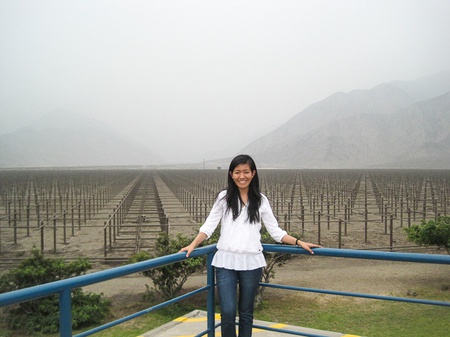 Mensajes espaciales
En los cuatro años en que estuvo trabajando en el Radio Observatorio de Jicamarca, lejos del ruido y la contaminación electromagnética de la ciudad (haciendo un viaje de hora y media desde el distrito de Magdalena donde vive), Nadia le fue dando forma a su tesis titulada "Mejoramiento de las comunicaciones analógicas y digitales vía el electro-chorro ecuatorial empleando diversidad", contando con la asesoría del Dr. Jorge Chau, director de dicha institución.
Primero empezó experimentando con los aparatos que usan los radioaficionados y logró transmitir mensajes de voz con una mejor calidad a la que existía. "Ya se habían hecho algunos experimentos de este tipo en los setenta y se retomaron hace poco más de diez años, pero ahora, usando la técnica de la diversidad, se propuso mejorar la calidad de la señal", precisa.
"Buenos días, good morning", era el mensaje corto y repetitivo que sus compañeros oían seguidos de un tono para medir la calidad de la señal. Las pruebas que realizaron no solo transmitieron voz. También enviaron datos empleando un software de radioaficionados instalado en la computadora, mediante el cual comunicaron Jicamarca y Paracas durante las pruebas realizadas.
Lo importante de este experimento es que puede utilizarse en localidades de la sierra y la selva que no cuentan con servicios de telecomunicaciones, ya sea por su accidentado territorio o porque no son rentables para las empresas y que, en caso de emergencias como sismos o derrumbes, quedan aisladas. "Con el electrochorro se pueden implementar estaciones en diferentes puntos del Perú siempre que cuenten con ciertas condiciones geométricas, lo cual lo hace un sistema con alto grado de privacidad y al que se le puede añadir algoritmos de encriptación para proteger la confidencialidad de los mensajes transmitidos".
Joven científica
Precisamente por esta investigación fue que Nadia pudo viajar a Turquía para ser parte de la General Assembly and Scientific Symposium, de la Unión de Radiociencia Internacional (URSI GASS 2011), que se realizó en agosto de 2011 en Estambul. "Fue una gran experiencia porque pude conocer a jóvenes científicos de todo el mundo que, pese a su corta edad, ya son doctores", cuenta Nadia.
Era como ver a los personajes de la serie The Big Bang Theory (los físicos geeks precoces) de verdad. Genios y jóvenes científicos de la vida real en un congreso al cual llegó gracias al financiamiento internacional. La experiencia fue muy valiosa y motivadora por el renombre internacional del Radio Observatorio de Jicamarca, por el que todos preguntaban en la ciudad de la antigua Bizancio.
Y es que, desde la época en que fue beneficiaria del Crédito Educativo de la Asociación Peruano Japonesa como estudiante universitaria (ahora es directiva de este departamento) al 2011, cuando estuvo en una de las asambleas científicas más importantes; o al 2012, en que recibió el Premio Graña y Montero de la Asociación Civil Espacio Azul y el Colegio de Ingenieros del Perú por su tesis, las ambiciones de Nadia Yoza no cesan.
Una maestría en el extranjero, en Estados Unidos o Japón, y desarrollar la comunicación inalámbrica y la cobertura de celular en pueblos rurales (en la empresa en la que labora en la actualidad) son algunas de sus metas próximas, entre los que esconde su deseo de continuar en la investigación aplicada en telecomunicaciones, un sueño que vuelve a su mente cada vez que mira el espacio.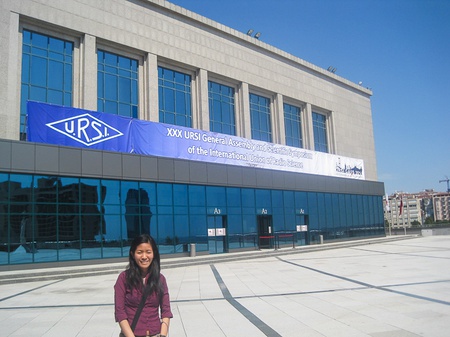 * Este artículo se publica gracias al convenio entre la Asociación Peruano Japonesa (APJ) y el Proyecto Discover Nikkei. Artículo publicado originalmente en la revista Kaikan Nº 72, y adaptado para Discover Nikkei.