Read Part 1 >>

Yes, imagine using an orphanage as a "large multiple-unit dwelling." As we find in that article and in others around the same time, nothing approaching the 100 Nisei ever made it to the Gusky Orphanage. Actually, accounts from July 1945 only put two families there—a family of nine and a family of 12. The first didn't arrive until August 18th, and the second on August 19th. The second—the Fujihara family—was out the next day. "Jap-Americans Quickly Find Work on Farm," was the Pittsburgh Press headline on August 20, 1945.
The twelve Fujiharas, who left their rich California acres when the war began, were tilling the soil again today.

This time it was Western Pennsylvania earth, and it didn't belong to them, but they were back at the work they loved after three years in a concentration center for Japanese aliens and Japanese-Americans.

The Fujiharas moved into the Gusky Orphanage on the North Side yesterday and left this morning for their new home on a farm ten miles north of Titusville. Expert truck farmers, they had their choice of at least 20 good farm jobs, said Dr. Howard E. Mather of the War Relocation Authority.

Only one other family—the Ishimotos—is still quartered temporarily at the old orphanage, and Dr. Mather expects this family will be placed within a day or two.
. . .
Only a few Japanese-American families are expected to come to this district before the end of the year, when all the relocation centers are closed. About 60 percent of them eventually will return to their shops and farms on the West Coast, Dr. Mather estimated.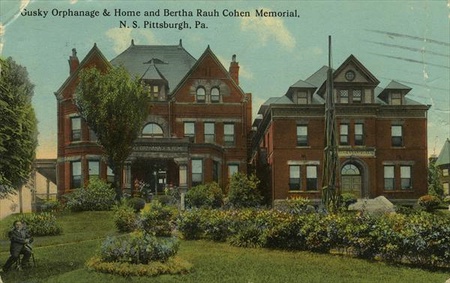 More about the Fujiharas later. The controversy about housing them at Gusky continued after the families arrived, says an August 19th Pittsburgh Press article that picks up from the July 5th story quoted above.
Judge John P. Egan yesterday [August 18] refused to issue a special injunction asked by the 26th Ward Citizens Committee after a family group of nine was brought to the old Orphanage building late Friday night.
. . .
The Resettlement Committee's victory was only temporary. Judge Egan refused the injunction on technical grounds.
Contemporary editorials were unkind to the introduction of Japanese into the Northside. The Mount Washington News on July 6:
The big [Fourth of July] parade did not stop in the North Side last week as promised and they are still sore about it over there. But they are sorer because someone wants to house Japanese in the old Gusky Orphanage. At a mass meeting it was claimed this would hurt property values—just about the poorest excuse that could be offered for bringing our country's enemies into our neighborhood to undermine our morale. If the Japs had their way there would not be any property values at all; like Tokyo and other Jap cities today.
A June 26th Pittsburgh Press editorial answering the question made by a local representative, "The Japs are mostly to work on farms, so why put them here?"
The obvious answer is that they have to be housed somewhere until permanent places are found for them and the orphanage building seemed to meet that need. It has been emphasized by representatives of the Government agency that they are not to be kept there for any considerable period of time, nor are they to be permitted to settle en masse in any locality of the country. They will not be herded together into a confined district where they would be unwanted and unwelcome and invite the label "Jap-town." It is the purpose of the Relocation Authority to help them find jobs and homes nearby, scattering a mere 200 among 1,400,000.

Much larger numbers have been placed in Cleveland, Chicago and other cities. It would be a sorry reflection upon Pittsburgh if it should refuse co-operation in this very modest program.

The Northside isn't being picked on. It just happened that the old Gusky building seemed to meet a pressing and temporary problem. The zoning question would probably never have been raised if the families involved had not been of Japanese origin. We haven't hesitated to enlist their sons in the army where they have fought side by side with our own. One of the first and most emphatic protests against unfair treatment of the Nisei came from GIs, through the "Stars and Stripes" [magazine].

If we can't take a minor matter of this sort in our stride we had better stop talking about tolerance and broad-mindedness and fair play. If we believe in them only for the other fellow we might as well stop pretending that we believe in them at all.
There were some dissenting local voices who were upset not simply about putting Japanese in their neighborhood, but about rounding up and exporting Japanese at all. A Ben Avon woman provided one in a July 13 letter to the editor, "It's Up to Us To Help Them," a letter that reveals ambiguous feelings and a contrast between Japanese Americans and the Japanese:
I have just read the reports on the proposed housing of Japanese-Americans in the Gusky Home. I no longer live in the 26th Ward but I did go to school there and I lived there until my marriage, so I feel free to give my opinion on this subject.

These Japanese-Americans have been proved loyal to our country—and it is theirs, too. They are citizens, but they have had a bad time these last couple of years. Now they desire a break and it is up to all of us who have been more fortunate to see they get it.

We, through our Government, were responsible for taking them from their homes and placing them in camps. Now it is up to us to help put them back into homes and help find ways of earning a living. After all, my forefathers came from Germany and we have been at war with Germany. The loyalty of these people has been questioned and they have been proved true. We owe them an apology as well as a helping hand.

I realize that the people of Japan deserve whatever our boys do to them because of their actions toward us and the other countries of the world. My husband is in the service to fight them so I have reason for hating them. But please remember this—there are good and bad mixed in every nationality.

These people or their forefathers came here for the same reason ours did. Why should we deprive them of the right to live in our city just because they happen to be of Japanese descent?

MRS. ADELAIDE BOSSONG
7102 Perrysville Ave.,
Ben Avon.
Beulah Kennard of Pittsburgh writes on July 16 of being "shocked and distressed by two recent reports, showing an apparent lack of generosity of spirit in which we have always taken pride."
One report stated that a Northside committee in our own city had "protested" the temporary lodging of some selected American citizens of Japanese parentage in the Gusky orphanage. Apart from the lack of kindness which such a protest shows, these Northsiders seem to be ignorant of the fact that this is a peculiarly bad time to express racial prejudice and antagonism because we are playing right into the hands of the Japanese warlords.

They know they have lost the war, but they hope by prolonging it to gain a softer peace; and one of their arguments is our hatred of the Japanese people which makes even suicide seem better than surrendering to us. Every expression of dislike on our part is exaggerated and distorted to this end, and we must not forget that Japan is no longer on the other side of a wide ocean. She is only 36 hours away by plane and scarcely 10 minutes by radio.
Aside from a few opinion pieces that mention the orphanage in passing, there is no other news on these families beyond August 1945. Likewise, news of the "Pittsburgh Citizens' Resettlement Committee" disappears from record. However, one woman in Centerville, PA—where the Fujihara family of 12 went after their night in Pittsburgh—dug into their history in 2010 with a remarkable series in the tiny Titusville Herald. A 1945 article titled "On Farm Near Centerville, Loyal Jap-Americans Come from California" inspired Paula Warner to research the family and their brief time in Centerville, PA. Warner wrote three articles for the Titusville Herald:
* "Centerville writer unravels 65-year-old post-WWII mystery" (November 5, 2010)

* "Writer tracks Japanese-American family's post-WWII move to Cleveland" (November 12, 2010)

* "Writer tracks Japanese-American family's post-WWII move" (November 27, 2010)
The last one includes long excerpts from an email exchange between Warner and Aiko—one of the daughters—and Kenneth—one of the sons. Rather than quoting something out of context, it's better to read Warner's three pieces in their entirety.
Pittsburgh's participation is unremarkable; as an article said "Pittsburgh is the last big city away from the Pacific Coast to start a relocation movement" and as one of the most important cities in the country at the time it was to be expected. Volumes have been written about Japanese American internment so it isn't necessary to editorialize here. It's just interesting to stumble across these accounts, and to add texture to an era we've grown to mythologize through both media and our grandparents.
There was some overflow when collecting these articles, and including some sources would have made the post even more long and unwieldy. Look for more in an upcoming installment a little later.
* This article was originally published on the blog Pennsylvasia at the intersection of Pennsylvania and Asia on March 10, 2013.