Read Part 3 >>

Tamai family:

Until the 1990s, there was only one Japanese market in the Greater New Orleans area, and that was Oriental Merchandise. It served as an informal social gathering place for the Nikkei of New Orleans. Frank Tamai and George Hirabayashi ran the import/wholesale business originally called Oriental Trading.
While the main business was selling Asian goods to retailers, as well as Mardi Gras throws to krewe members, off to one side was a barely noticeable door that lead to a spanking clean, one room shop. In that room was the only place in the New Orleans area where one could buy Japanese food and goods ranging from Kikkoman soy sauce to frozen mochi.
During Japanese holidays such as New Year's, it was also possible to obtain special order sashimi (fish meant to be eaten raw), root vegetables such as renkon (lotus root), gobo (burdock root), and sato imo (arrowroot). It was inevitable that nearly every Japanese and Japanese American in town stopped by to stock up on supplies. No trip was ever brief because people always gossiped with proprietress Mrs. Chieko Tamai and clerk Mrs. Honjo to find out the latest happenings in the community.
Oriental Trading had originated in Omaha, Nebraska, by Frank Tamai's Issei uncle. A Nisei originally from Salinas, California, Frank and his family moved to Omaha to join his uncle and ultimately avoided internment. Frank knew about Mardi Gras and thought that if he started a branch of his uncle's business in New Orleans, he could sell the beads and trinkets traditionally thrown from Mardi Gras floats. George Hirabayashi, a Kibei Nisei and employee, accompanied him.
They opened the business in 1959 and it was an instant success, since there really was no other local Mardi Gras supplier. Realizing there were a few Japanese living in the New Orleans area, they also started a small grocery store since it was easy for them to import food products along with other giftware from Japan and other parts of Asia. Though few in the New Orleans mainstream knew about the grocery store, many knew to buy Mardi Gras beads at Oriental Trading.
Frank was an unusual Nisei in that he was fully bilingual and easily communicated and socialized with both Nisei of his generation and Japanese businessmen. He contributed immensely to the social well-being of the Japanese community. He was instrumental in starting the Japan Club of New Orleans in the early 1970s and lent the club office space in his store.
Mr. Tamai donated prizes and trinkets for various Japan Club events such as Bonenkai and the Children's Day picnic. He also hosted an annual Christmas party at his home, large enough to fit the approximately 200 Japanese and Japanese American families in the area. Mrs. Tamai always prepared large quantities of delicious Japanese dishes. Son Stanley remembers setting up Mahjong and poker tables for the adults.
Arimura family:
Dr. Akira Arimura, a native of Kyushu, studied medicine in Japan during the early post war years. He specialized in neuroscience and endocrinology and secured a Fulbright fellowship to Yale University. However, his faculty sponsor left Yale to move to Tulane University in 1958, and he followed, having never heard of Tulane and having no idea where New Orleans was.
When he arrived, he was at first disappointed by what appeared to him to be a dusty Southern city, but he soon experienced what he understood to be true Southern hospitality. A train attendant took care of his luggage, and a neighbor helped his pregnant wife. Having never seen such generosity before, he decided that this was the place for him.
Successful in securing a faculty appointment at Tulane, he was a productive researcher. During the 1970s, he was part of a scientific team that won the Nobel Prize in medicine. As he established his own lab, he often recruited visiting scientists from Japan. By the 1980s, he established the Hebert US-Japan Biomedical Research Laboratories where collaborative research could be conducted between the two countries. His dreams were fulfilled through his Sunshine Project, where teams of scientists from the US and Japan carried out research in the field of neuroendocrinology. US institutions sponsored Japanese scientists in the US, while Japanese companies contributed funds to support them.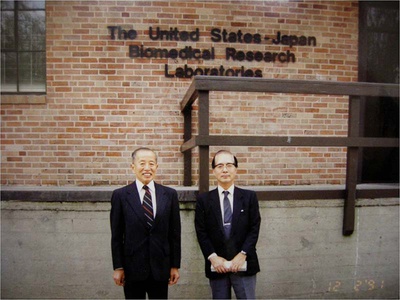 In 1989, he discovered an important neuroendocrine protein, PACAP (pituitary adenylate cyclase activating protein), which is involved in many biological processes but also has the potential to treat various neurological diseases. In recognition of these contributions to science and his international collaborative work, he was awarded a medal of honor (kunsho) by the Japanese Emperor in 1992.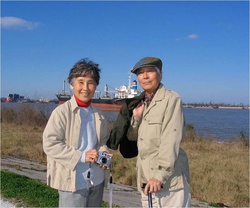 His wife, Mrs. Katsuko Arimura, a native of Hamamatsu, Japan, is an accomplished ikebana and chanoyu teacher. She taught ikebana classes to a variety of interested students and authored a book on the subject. She also taught chanoyu and began a local tea ceremony society. When Dr. Arimura established his new labs at the Hebert center, he constructed an authentic Japanese tea ceremony room within the labs so that guests could appreciate and enjoy an authentic Japanese tea ceremony.
Hurricane Katrina also took its toll on the Arimura family. Tulane University was forced to downsize after Katrina devastated much of the medical school facilities. Dr. Arimura decided to retire and closed his laboratories. However, the tea ceremony room remains, where Mrs. Arimura continues to entertain members of the Japanese community. Dr. Arimura passed away a few years after Hurricane Katrina, but his family created the Akira Arimura Foundation to provide financial support to those who carry on his scientific legacy1.
Note:
1. http://www.sfn.org/index.aspx?pagename=memberobituaries_arimura