There have been and will be other Japanese American senators, but to me, he will always be "the Senator." I've worked at the Japanese American National Museum for over 17 years now. With affection, among staff, we know that when referring to "the Senator," we are talking about Senator Daniel K. Inouye.
I watched the video of the ceremony at the U.S. Capitol Rotunda when they brought the Senator to lie in state, an honor bestowed upon only 31 other individuals since the 1800s, primarily reserved for presidents.
I also watched the memorial service at the Washington National Cathedral in which President Barack Obama, Vice President Joe Biden, President Bill Clinton, General Eric Shinseki, and others spoke with such respect and personal affection. Honor, integrity, fair, humble, moral courage, loyalty, always doing what was right, and love of country…these words all well describe and represent who the Senator was.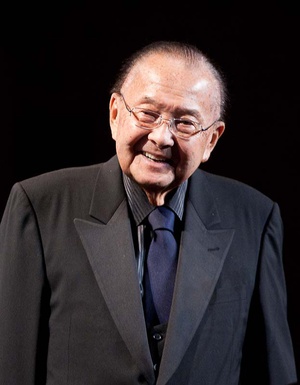 Today, I watched the live webcast of the Senator's memorial service at the Punchbowl in Hawai'i where he was remembered fondly and with deep respect by people he worked directly with for many years to help the people of Hawai'i. It was great to see members of the 100th/442nd in attendance, although also sad to see how few they numbered. We are losing so many of these courageous soldiers ever faster now.
Jennifer Sabas, his Chief of Staff, asked everyone to reflect on the significance of the Senator lying in state on the wooden platform made for Abraham Lincoln, the president who fought so hard to abolish slavery. Sabas talked about the Senator's fighting spirit, and his risk-taking confidence ever-filled with hope. She implored us all to pick up the baton that he has laid at our feet. Another speaker stated that America is closer to the ideals of the Constitution because of the work of the Senator. I cannot imagine what the nation would be like had it not been for his dedicated and courageous leadership.
It has been kind of surreal watching his wife Irene Hirano Inouye in the footage. It's not just from disbelief…or not wanting to believe…that the Senator is really gone. Irene was the Museum's first President/CEO, serving in that position until she stepped down in 2008. She and the Senator both have continued to remain supportive of JANM after her departure from staff. I still occasionally receive emails from her sharing links to interesting stories that she thinks might be of interest for Discover Nikkei. To see someone who I worked with for so long being greeted and comforted by some of the most powerful and influential people in the nation seems so strange. That puts me in one degree of separation from the likes of national and world leaders! It's kind of mind-blowing.
And yet…with Irene, and with the Senator…that there would be that sense of surreal-ness is natural, because they are so warm and supportive. His down-to-earth personality and sincere appreciation and gratitude for the work that we do is something I will always remember. It was easy to forget that he wasn't just a leader at JANM, but a national leader himself because he didn't stand on ceremony. I've heard many stories this week about how he would stand in line with everyone else because he didn't want to take advantage of his position.
One of the biggest rewards of working at JANM all these years has been the opportunity to meet the Senator so many times. He was always gracious and warm with a ready smile and greeting. To have shaken his hand, to have had the opportunity to speak with him, and to hear him speak so proudly and passionately was always an honor. He was a wonderful storyteller, and when he "talked story" in his Hawaii drawl, you couldn't help but become captivated.
I recall attending the Museum's 2004 National Conference in Little Rock, Arkansas. I was able to attend with my family, which was personally very meaningful for me because both sides of my family were incarcerated there during World War II. The Senator was a keynote speaker at one of the events, and in his speech, he shared the story about how the 442nd almost was disbanded before they even got started because of the fighting between the boys from Hawai'i and the "kotonk" mainlanders. His telling of how he and some others from Hawai'i went to one of the Arkansas concentration camps and realizing that the mainland soldiers had volunteered to fight for their country despite their families being put into camps, and how that changed their whole perspective on their fellow soldiers was so eloquently, yet compassionately told. There were many tears being wiped away around the room as he recalled how that was the moment the 442nd came together.
Another treasured memory I have of the Senator at the museum was one year our volunteers organized a Staff & Volunteer Talent Showcase. The Senator happened to be in town, and so he participated by totally impressing us with a wonderful performance on piano. He told us that after losing his arm, he had to learn to play as part of his rehabilitation. I think that shows the type of determination and will that he had. To not only learn to play, but to be able to play so beautifully with just one hand. We were all so impressed.
Since he retired from our Board of Governors several years ago, he hadn't visited as often, but one event he would always try to attend is the Museum's Gala Dinner where he initiated the Bid for Education program. Every year, we do a live auction-style pitch to raise funds that enable free bus transportation and admission to the museum for K-12 students from Title I schools that would not be able to afford to send students on a field trip. The Senator felt that it was so important to teach young people about our history. Because of this initiative, thousands of students and educators have learned the painful lessons of our nation's past. At next year's Gala, the Bid program will be more poignant and important than ever.
Each year, my husband and I have donated for the Bid for Education initiative. I was already planning on making Bid for Education gift(s) in honor of James Hirabayashi and Manabi Hirasaki, who both passed away earlier this year. It looks like we will be making an additional gift to honor the Senator. All three did so much to shape the early development and growth of the Museum. The world is a much better place because of them.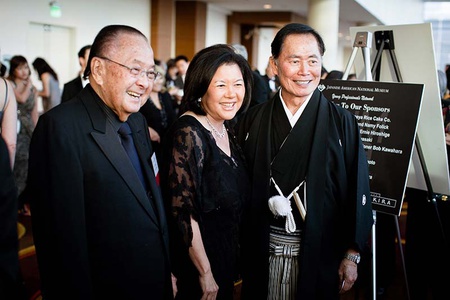 This week, as I have read statements and tributes from various organizations and individuals, it amazed me to see the diversity in the people and organizations that he helped. He wasn't just the Senator for Hawaii and the Japanese American community. He was an important supporter and role model for everyone. In a nation divided by parties, religions, and ideologies, the praise and recognition came from everywhere. He did not command respect, he earned it. Not just with words, but with courageous action—whether on the battlefield or in politics. He served his country with extraordinary valor, dignity, and pride.
Thank you, Senator, for all that you did for our museum, our community, our country, and the world. You will forever be "The Senator" in my mind and in my heart. Rest in peace. We will keep up the fight.