I'm a city girl...actually, more of a suburbanite. I need certain comforts around me—clean toilets, a shower, comfortable and warm place to sleep, etc. My pale skin proves that I don't spend a lot of time outdoors. Yet, this year seems to be drawing me out of my normal habits, enticing me with new opportunities to get out in the sun.
In March, I joined my fellow Discover Nikkei co-workers for a hanami to see the sakura (Japanese cherry blossom) trees in bloom at Lake Balboa in Van Nuys, CA. Sakura trees usually blossom around April, but here in sunny Southern California, they bloom earlier because of the warmer weather. It was a nice day, the sun was out with a gentle breeze to cool us, and we enjoyed a nice picnic lunch before walking about to take in the view and shoot photos. The blossoming period was almost over, but there were still some trees full with delicate flowers. When the wind blew, it lightly shook the trees and a flutter of petals would be released, gently falling to the ground like snow.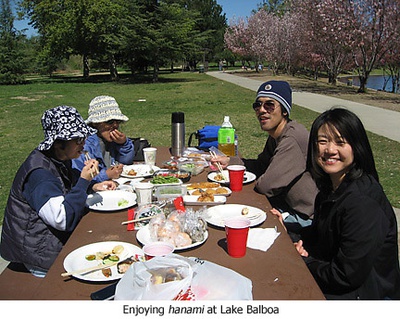 The day reminded me of how my husband and I spent our first wedding anniversary at the Washington D.C. National Cherry Blossom Festival. We were fortunate to go when most of the trees were in full bloom. It was incredible walking around the city and especially down near the Tidal Basin where the majority of the trees are located. It was so crowded with hordes of people walking around taking photos and enjoying the day.
Our hanami trip also reminded me of my Uncle Harry who I would see watering the sakura trees on Central Avenue in Little Tokyo, right outside of the Museum. I would sometimes wander out for lunch and see him standing next to a tree with a hose, patiently waiting for it to drink its fill. Every time I see those trees, especially in the springtime when they're in bloom, I think of him.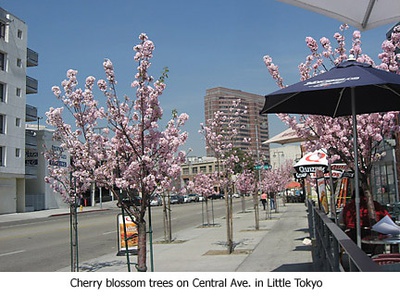 Uncle Harry also used to help maintain the Japanese American Cultural and Community Center's (JACCC) Japanese-style garden. He was also a big part of the JACCC's plant sales. He was an active member of the Southern California Gardeners' Federation up until his passing several years ago. I met several of their members when the National Museum had its Landscaping America exhibition. I am always very warmly welcomed by their members whenever I see them, largely because they know I am his niece.
Next Sunday (May 4), I signed up to volunteer at the JACCC to help with their garden renovation project. Even though I didn't inherit my family's green thumb, I hope that I can be useful. I plan on doing it in honor of Uncle Harry, as well as my father and other uncles who are/were gardeners, and all Japanese American gardeners. I heard the Gardeners' Federation will be there that day trimming trees, which is largely why I chose that day to help out. I'm hoping that they don't assume that I hold the same magical gardening skills as my uncle and ask me to do anything that requires actual gardening skills. My ideal task would be in clearing away the branches and leaves that the gardeners trim off.
Recently, I found out that my family was accepted as "adoptive parents" for an Elberta peach tree. This summer, in late July or early August, we will be driving up to Del Rey, California to the Masumoto Family Farm (masumoto.com). We'll wake up early in the morning to escape as much of the intense summer heat as we can to pick our adopted peach "babies." We applied last month and were very excited to find out that we were included for this year's crop.
Elberta peaches are an heirloom peach variety—creamy, buttery smooth peaches that are juicy and flavorful. "Adopting" one of their trees means that we must go up to Del Rey (located near Fresno) in the middle of summer on two consecutive Saturdays where they will provide us with some basic instructions and tools to harvest our fruit ourselves. We have separate teams to go on the two weekends—the first weekend will be me and my family, the second weekend a co-worker is going with hers. I've talked to some people who have done it in the past, and they said that it's really hot and by the end you're really tired, but that you end up with so many delicious peaches…in fact, boxes and boxes and boxes of them. We plan on eating as many as we can, but then we'll be sharing most of the fruit with family and friends.
In addition to sharing peaches, I plan on also documenting the experience to share on Discover Nikkei. I'll be snapping photos of the process and of the peaches to upload to Nikkei Album...well, as much as my family will let me get away with not spending the entire time actually picking peaches!
Last year was a time for connecting to my family's history by learning about the past. This year, it seems I'll be physically making connections to my family's farming and gardening roots. Maybe I'll even get a nice tan!