Vancouver's 46th Powell Street Festival!!
Oppenheimer Park
Vancouver, British Columbia
Canada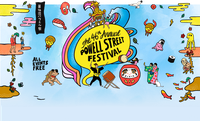 Powell Street Festival is one of the largest and the longest-running community arts festivals in Canada, located in Vancouver's historic Japanese Canadian neighbourhood, Paueru Gai – today known as the Downtown Eastside. 
The Powell Street Festival Society also offers year-round programs, and collaborates with local organizations, artists, and communities.
https://powellstreetfestival.com/events/

Masaji . Last modified Jul 13, 2022 8:07 a.m.
---