Morimura Recommends
Japan Society
333 East 47th Street
New York, NY 10017, New York, 10017
United States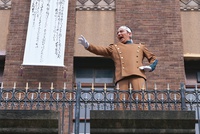 Join the Japan Society of NY's Book Club for Morimura Recommends!
In his artistic exploration of postwar Japanese history, exhibition artist Yasumasa Morimura has famously staged himself as the controversial author Yukio Mishima in his iconic 1970 coup d'état speech at the Army headquarters in Tokyo. For the fall installation of our Book Club series, the artist has handpicked Mishima's novel Temple of the Golden Pavillion (1956). Led by Prof. Gregory Pflugfelder, Columbia University.
For more information, please visit the event link here.

APA_Institute . Last modified Oct 11 2018 8:17 a.m.
---