Japan Society of New York, Shichigosan: Celebrating the Health of Children
Japan Society
333 East 47th Street
New York, NY 10017, New York, 10017
United States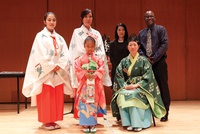 Celebrate the growth and good health of children ages 3, 5 and 7 through the Shinto ritual of Shichi-go-san (seven-five-three). Three and five-year-old boys and three and seven-year-old girls of all backgrounds are invited to participate in this traditional celebration with their parents.
Tickets will be available beginning September 15 for purchase through the International Shinto Foundation website. If you have any questions, please send an email to the International Shinto Foundation New York Center at info@isf753.org.
For more information, please follow the link here.

APA_Institute . Last modified Oct 11 2018 7:45 a.m.
---