Japan Society of New York, Nihongo Chat + J-Culture
Japan Society
333 East 47th Street
New York, NY 10017, New York, 10017
United States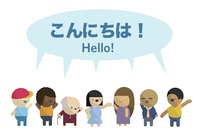 Join Japanese-language students and native Japanese speakers at this informal gathering to practice Japanese and English! Anyone with some Japanese language experience is welcome to attend. 日本に興味のある人たちや日本語を勉強中の人たちと楽しく会話をしましょう。 日本人の方、英語を勉強中の方、ふるってご参加ください!
For 30 minutes during our October 19th meeting, special guest Karl Palma, NYC's premiere takoyaki chef, will talk about and demonstrate how to make authentic Osaka takoyaki. After the presentation, we will move back to the usual activity of practicing conversational skills.
For more information, please visit the event page here.

APA_Institute . Last modified Oct 11, 2018 7:39 a.m.
---