Maihashi: Make Your Own Reusable Chopsticks
Japanese American National Museum
100 North Central Avenue
Los Angeles, California, 90012
United States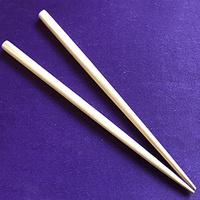 Versatile and timeless, chopsticks are a fundamental utensil for many Asian cuisines. In this workshop led by local woodworker Steve Hatanaka, attendees will create their own personal reusable chopsticks, also known as maihashi. Reusable chopsticks speak to the Japanese concept of mottainai, an effort to not be wasteful.
Open to ages 8 and older, but minors must be accompanied by an adult. $12 members, $15 non-members. Museum admission included. Limited to 20 participants.
TICKETS AVAILABLE NOW >>
This workshop is made possible in part by a grant from the City of Los Angeles, Department of Cultural Affairs.
In the Koichi & Toyo Nerio Education Center


JANM . Last modified Aug 29, 2018 9:18 p.m.
---