Obon Festival - Pahala Hongwanji Mission
Pahala Hongwanji Mission
96-1123 Paauau Pl
Pahala, Hawaii, 96777
United States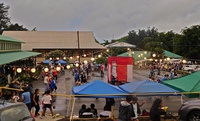 Come and enjoy Pahala Hongwanji Mission's 2018 Obon Festival! Enjoy a night full of family, friends, dancing, and, of course, eating as we celebrate this Japanese summer tradition. Obon is a time of remembrance to honor those loved ones who have passed, as well as a joyful celebration as we welcome their spirits back!
Saturday, 9/1 - 5:00 p.m.
Phone: (808) 928-8254

daniyang8 . Last modified Jul 17, 2018 11:36 a.m.
---