Obon Festival - Hilo Hooganji Mission
Hilo Hooganji Mission
457 Manono St
Hilo, Hawaii, 96720
United States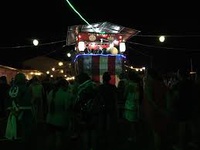 Mark your calendars for the 2018 Hilo Hooganji Mission Obon Festival! Have a night of fun as you celebrate Japanese tradition, food, dance, dress, and more! This summer festival serves to commemorate and honor those loved ones who have passed with a night of celebration with family and friends. Come and see what obon is all about!
Hilo Hooganji is a Buddhist temple of the Shingon Sect. Today, the impressive beauty of the church stands as a beacon of religion, built from the diligent and patient efforts of our members and friends.
Saturday, 7/28 - 7:30 p.m.
Learn more about Hilo Hooganji Mission
Phone: (808) 935-8331

daniyang8 . Last modified Jul 13 2018 9:06 a.m.
---