Hastings Park walking tour
Hastings Park
Vancouver, British Columbia
Canada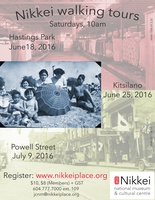 In early 1942, over 8,000 Japanese Canadians were detained in Hastings Park, Vancouver, before being sent to internment sites in the BC interior or to work camps across the country. Discover the history of the early days of Japanese Canadian internment and the Hastings Park Commemoration Project.
$10, $8 (NNMCC members) + GST
Please register in advance online: http://centre.nikkeiplace.org/hp-walk-june-2016/
Or by phone or email: 604.777.7000 ext 109. jcnm@nikkeiplace.org

NNMCC . Last modified May 07, 2016 4:13 p.m.
---