10TH Annual Jan Ken Pon! (Rock PaperScissors) Family Games Day
Nikkei National Museum
6689 Southoaks Crescent
Burnaby, British Columbia, V5E 4M7
Canada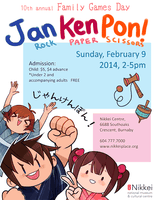 Sunday, February 9, 2014, 2pm - 5pm
Nikkei National Museum
Admission: Child $5, $4 advance; under 2 yearsold & accompanying adults FREE.
Experience over 20 traditional Japanese heritage games and toys at the 10th annual Jan Ken Pon! Family Games Day.
Play with colourful tops and a Japanese style cup & ball, make your own kite, sumo wrestlers and beanbags, and run around and burn off some energy.
The highlight of the day is a rockpaper-scissors tournament with prizes. Old Japanese heritage toys will also be on display.This event is suitable for families with children aged 4 to 12. Children must be companied by an adult.

NNMCC . Last modified Dec 29, 2013 9:42 p.m.
---