A Call for Justice Exhibit
Nikkei National Museum & Cultural Centre
6688 Southoaks Cresent
Burnaby, British Columbia, V5E 4M7
Canada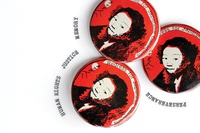 Fighting for Japanese Canadian Redress (1977-1988)
September 22 – December 29, 2013 (closed December 23-28)
Tuesday-Sunday | 11am-5pm
Admission by donation
A Call for Justice tells a story of human rights and the enduring perseverance of the Japanese Canadian community who suffered so much from 1942-1949. In honour of the 25th anniversary of the signing of the Redress Agreement with the Government of Canada in 1988, the Nikkei National Museum is presenting the first traveling exhibit celebrating the emotional struggle to achieve an apology and acknowledgement for these unjust treatments. This exhibit will examine the ten year fight using historic photographs, artifacts, poetry, personal statements, art, and video.
Supported by Canadian Heritage, Museums Assistance Program; National Association of Japanese Canadians; Deux Mille Foundation; Yoshiko Karasawa; and the Province of BC.

NNMCC . Last modified Sep 30 2013 2:41 p.m.
---